Try dipping your favorite egg rolls into something new for Cinco De Mayo! This Spicy Cilantro Poblano Dipping Sauce is made with roasted poblano peppers, Mexican crema, cilantro*, and a touch of lime juice and sriracha for a delicious, spicy dip, perfect for any fiesta!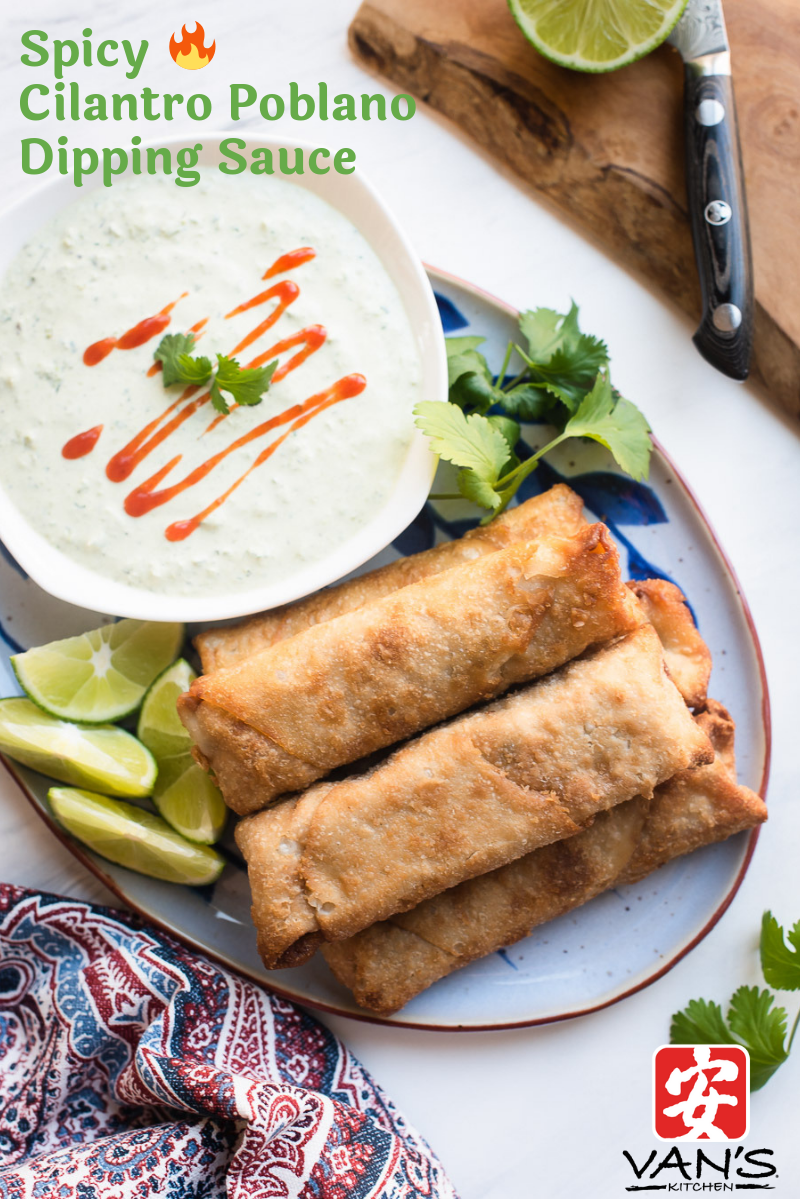 Summertime calls for freshly roasted poblano peppers and crispy, cravable egg rolls.
Don't have an open flame? You can roast the poblanos on a sheet pan using the broiler setting of your oven (about 500°F). Just remember to keep them about 6 inches from the top of the oven and rotate every few minutes for an even roast (this shouldn't take more than about 8-10 minutes).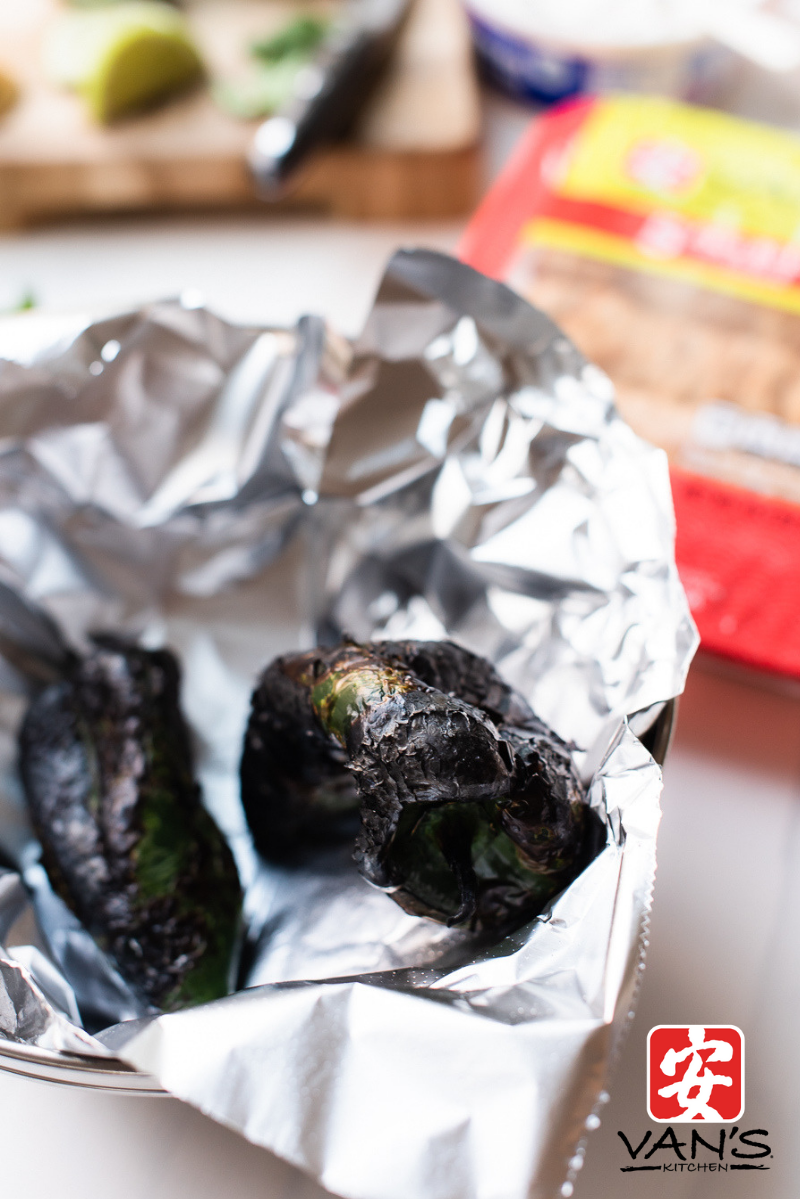 Another tip! Crema is perfect for this recipe and is available in most grocery stores, but if you don't have it on hand, use sour cream!
A quick zip in the blender or food processor, and this flavorful appetizer dip is ready to be served.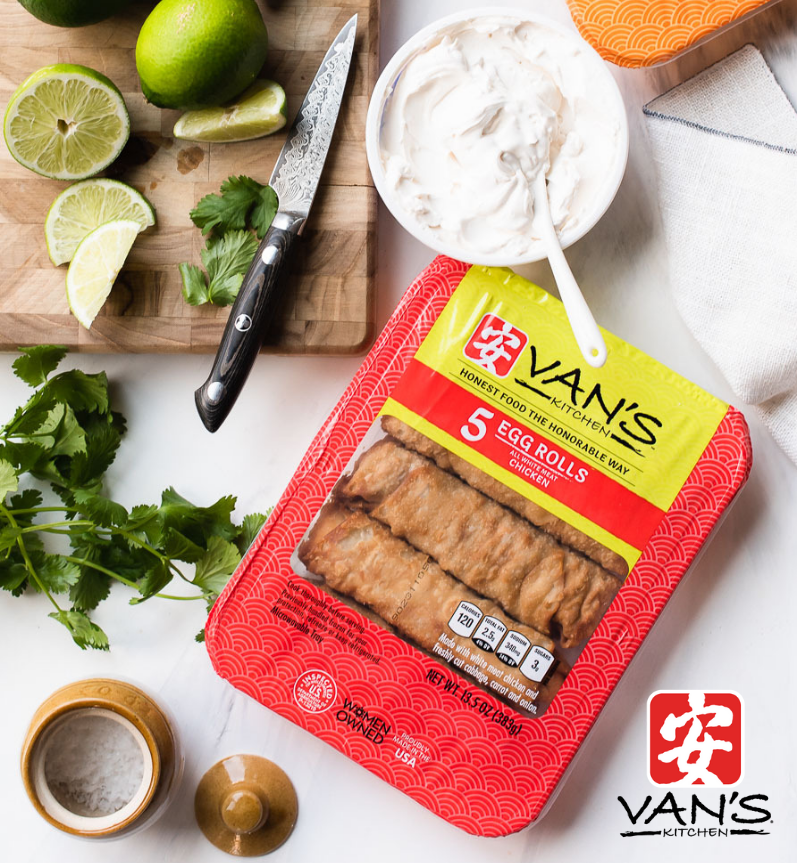 Whip up this Mexican-Asian fusion appetizer and spice up your Cinco de Mayo menu. Van's Kitchen egg rolls are Asian in origin, but delicious any time!
Warning: This dip is so good you may even be tempted to lick the bowl (and we won't tell if you do).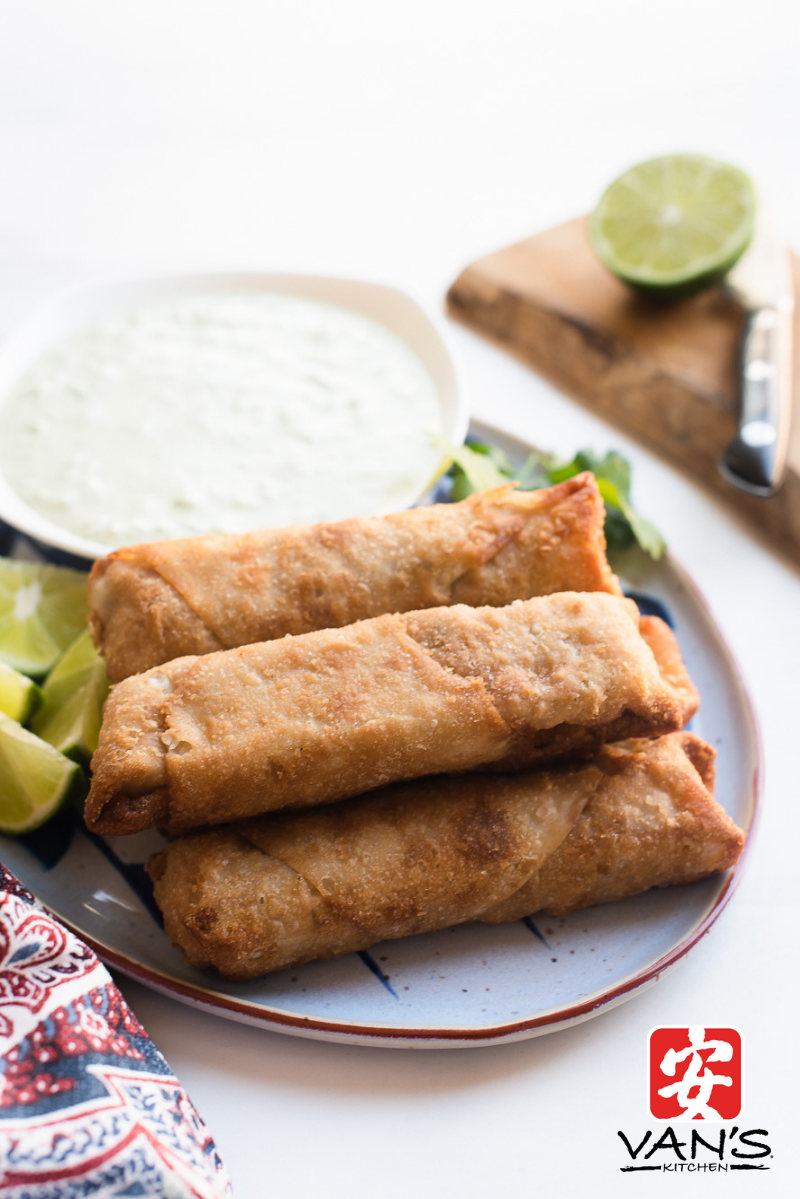 *If you are an individual that runs away at the sound of cilantro because you have that cilantro-tastes-like-soap allergy,

trust us…this is one amazing dip! 
Cilantro provides a beautiful green color, but it is not overpowering in flavor and definitely
does not
taste like soap in this recipe.
If you do want to replace it with another green ingredient, we suggest parsley or avocado!
Happy Eating!
Spicy Cilantro Poblano Dip
Recipe type:
Dipping Sauce
Cuisine:
Asian-Mexican Fusion
Prep time:
Cook time:
Total time:
Ingredients
Van's Kitchen Chicken Egg Rolls
2 poblano peppers
4 ounces Mexican crema (or substitute sour cream)
¼ cup cilantro leaves
2 cloves garlic, peeled
1 teaspoons salt, to taste
juice of half a lime
½ teaspoon Sriracha, more or less to taste
Instructions
Preheat the oven to 400°F with a rack placed in the center of the oven. Place the Van's Kitchen Chicken Egg Rolls on a baking sheet. Bake for 10 minutes, or until crispy and the internal temperature of the egg rolls is 165°F.
While the egg rolls are baking, make the dip.
Roast the poblano peppers on a gas burner by turning on to high flame. Place the pepper directly on the burner and use tongs to turn the peppers periodically until all sides are blackened (see note above for flame-less roasting tip!)
Transfer to a bowl and cover with plastic wrap, and let it stand for about 10 minutes.
Use a paper towel to rub off and discard the blackened skin. Roughly chop the peppers.
In a blender or food processor, add the chopped roasted peppers, crema, cilantro, garlic, salt and lime juice. Pulse until blended. Adjust seasoning with salt if necessary.
Transfer to a small serving bowl and drizzle with sriracha. Stir before serving with the egg rolls. Enjoy!