Add freshness and crunch with a deliciously simple egg roll salad that is the perfect vessel for cleaning out any leftover ingredients in your fridge. Introducing a new favorite: our Spring Cleaning Salad!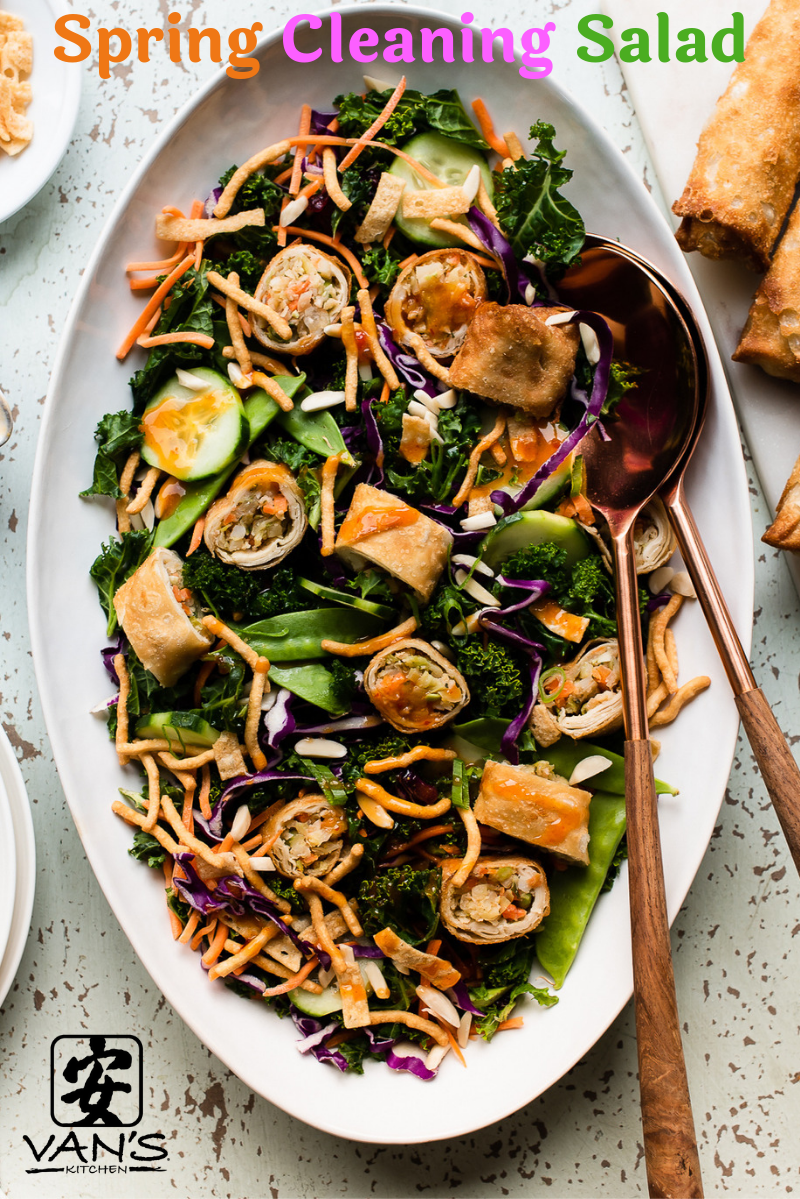 There are always several things hanging out in our fridge just waiting to be used in something delicious. This time, we found some red cabbage, snow peas, cucumbers, and a package of vegetable egg rolls.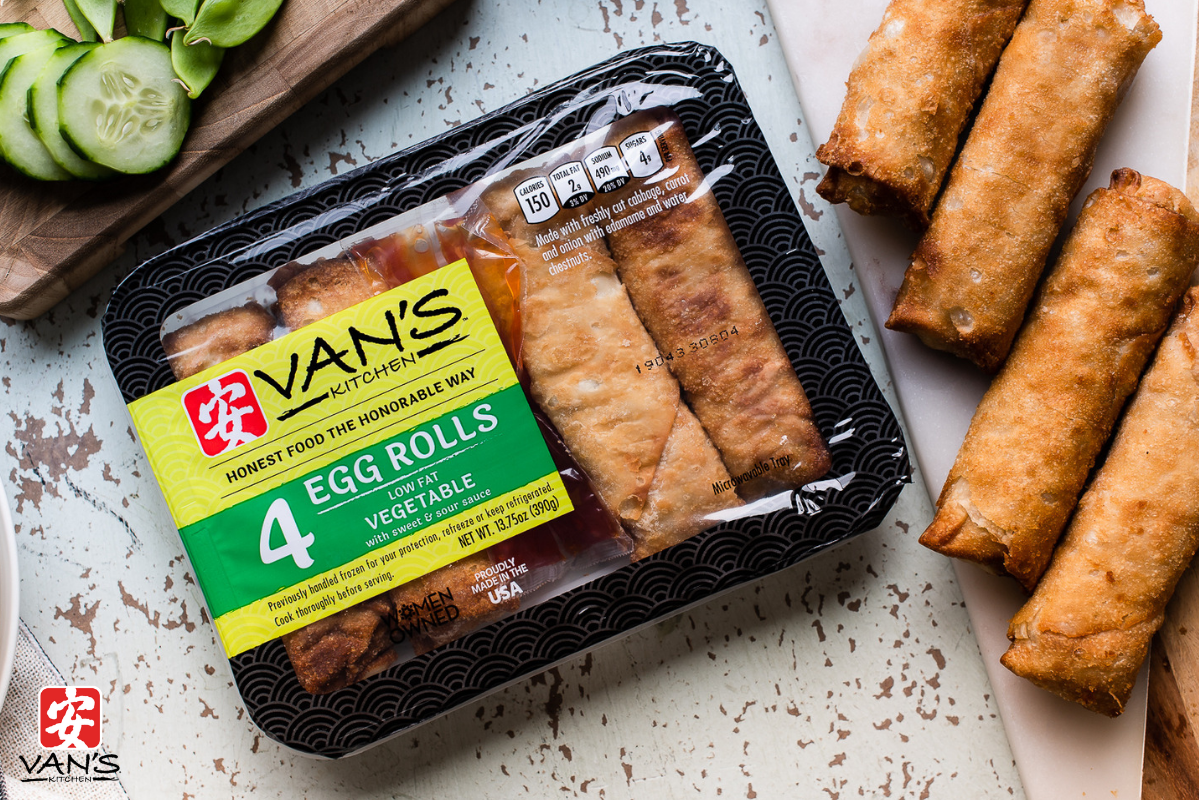 We always have Asian ingredients on-hand, but this recipe is adaptable to any flavor profile you find in your fridge. Have extra corn and black beans? Go Mexican! Have extra cold cuts and pepperoncini? Hello antipasto!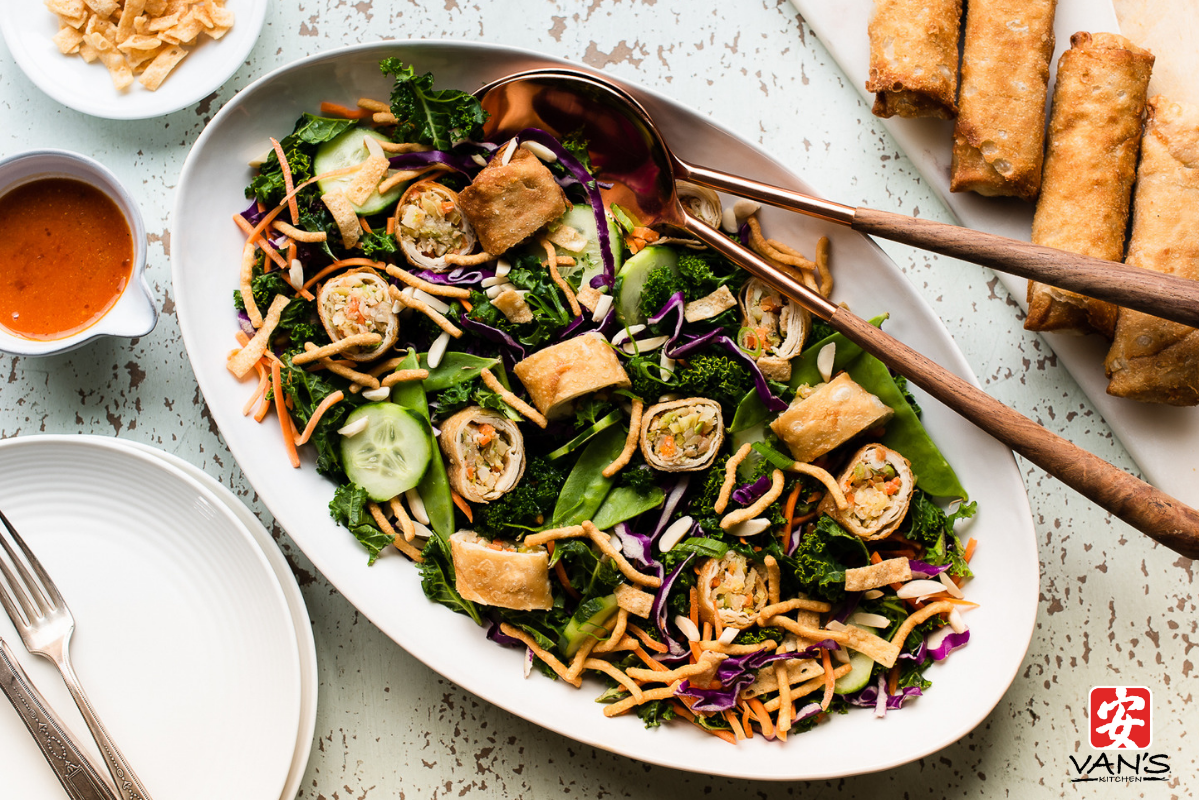 Luckily, Van's Kitchen's 4-pack egg rolls come with a yummy sweet & sour sauce.
When mixed with oil, mustard, and a little water, it makes the most delicious sweet and tangy dressing. It is seriously eat-with-a-spoon worthy.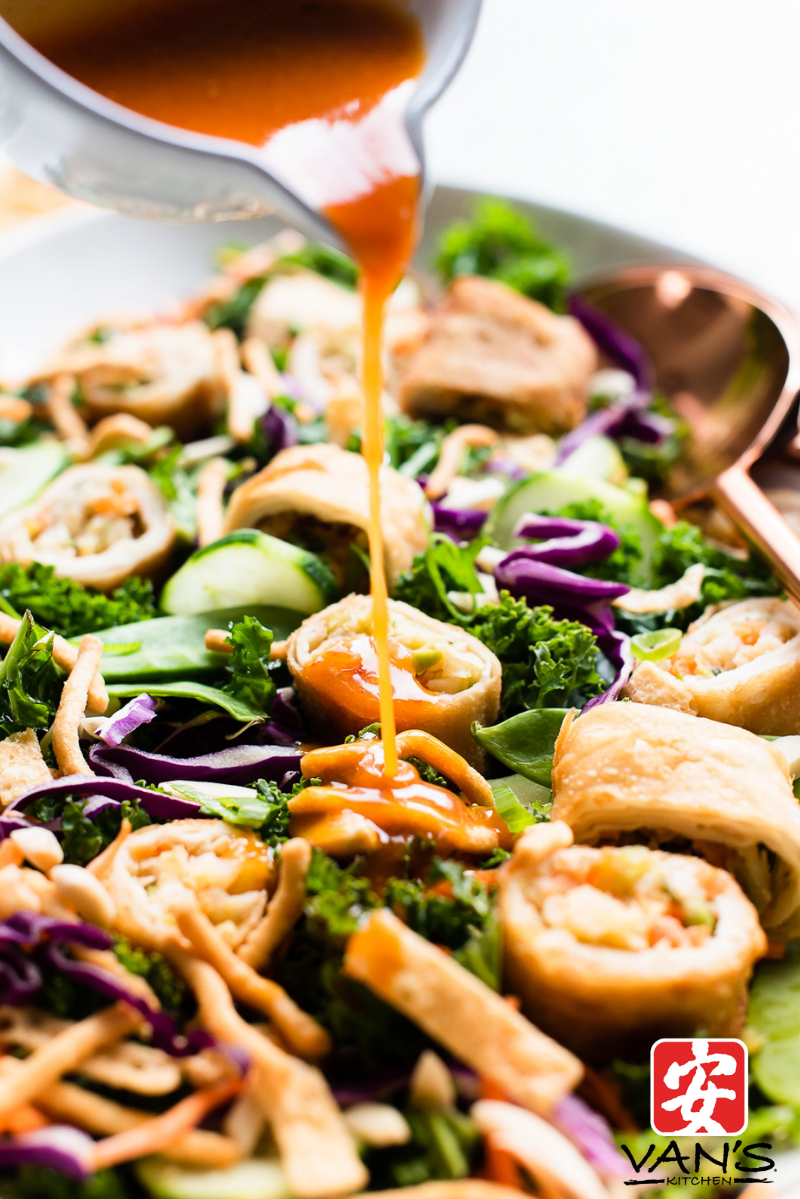 Assemble your Spring Cleaning Salad and give yourself a pat on the back — you just started your Spring Cleaning! (Marie Kondo would be so proud)
TIP: When making a salad with kale, mix some dressing into the greens and let it sit for 15-20 minutes.
Since kale is so thick and fibrous, it takes a little bit of time to absorb all of that sweet & sour flavor. Believe us, you will be grateful that you waited!
Spring Cleaning Salad
Prep time:
Cook time:
Total time:
Ingredients
Van's Kitchen Vegetable Egg Rolls with Sweet and Sour Sauce
3 tablespoons olive oil
2 tablespoons water
1 teaspoon spicy mustard
4 cups chopped kale
2 cups finely chopped red cabbage
1 cup finely chopped carrots
1 cup snow peas
1 cup sliced cucumber
½ cup wonton strips
½ cup crispy rice noodles
½ cup slivered almonds
Instructions
Preheat the oven to 400°F with a rack placed in the center of the oven. Place the Van's Kitchen Vegetable Egg Rolls on a baking sheet. Bake for 10 minutes, or until crispy and the internal temperature of the egg rolls is 165°F.
While the egg rolls are baking, make the salad dressing. In a small bowl, whisk together the sweet and sour sauce with olive oil, mustard and water until well combined. If the dressing is too thick, add a little more water as necessary.
Assemble the salad by tossing together the lightly dressed kale (see tip above), cabbage, carrots, snow peas, and cucumber.
Slice the egg rolls into 1 inch pieces and scatter on top of the salad. Garnish with wonton strips, rice noodles and almonds.
Serve with additional dressing on the side and enjoy!