We don't know how it happened, but eating egg rolls just got even more fun! We decided to give homemade egg roll sushi a try – and it was amazing! So fun, super easy, and a great way to learn how to roll up your own sushi.
Sushi can be tricky, but we have a few tips that will help you master this art form in no time!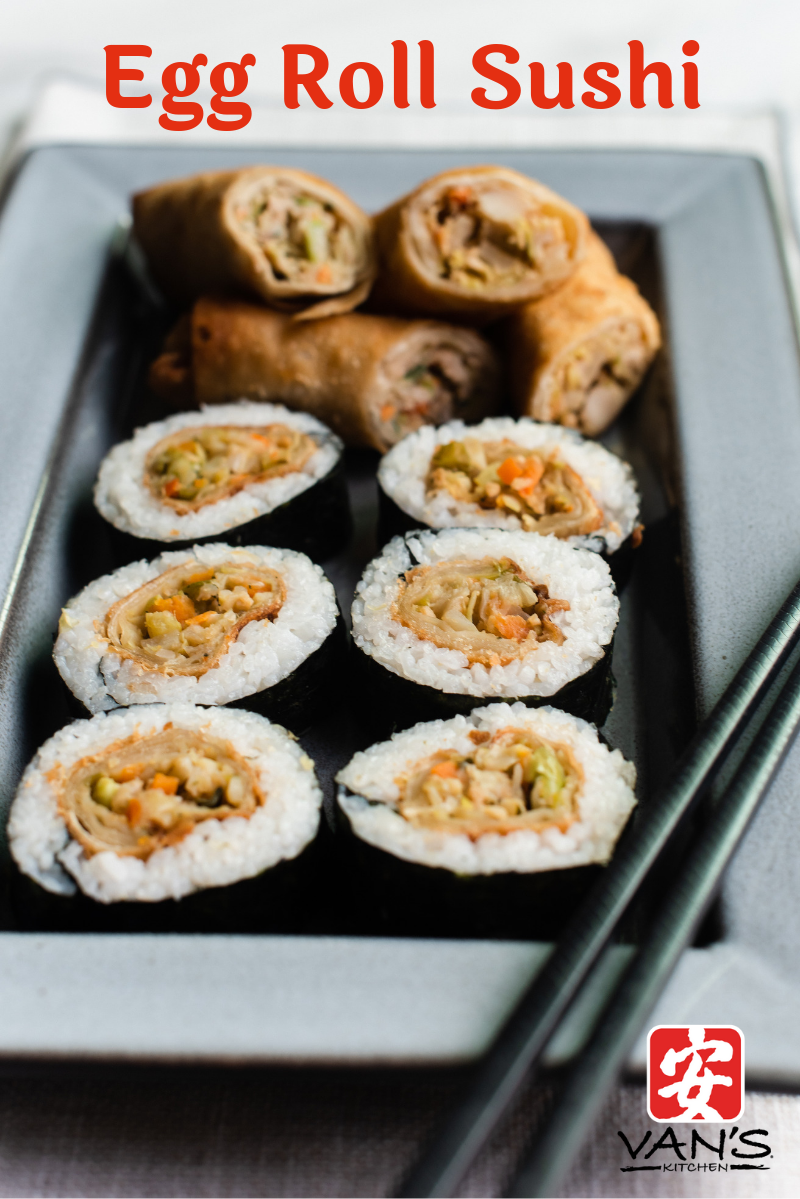 First things first, lay down a clean dish towel (or your bamboo mat) and cover it in plastic wrap. Place a piece of nori, shiny side down, on the plastic wrap and start spreading about 1 1/2 cups of the prepared rice on it. You know what comes next…the egg roll!
Grab your perfectly crispy egg roll and place it in the rice on the lower third of the nori (the part that's closest to you).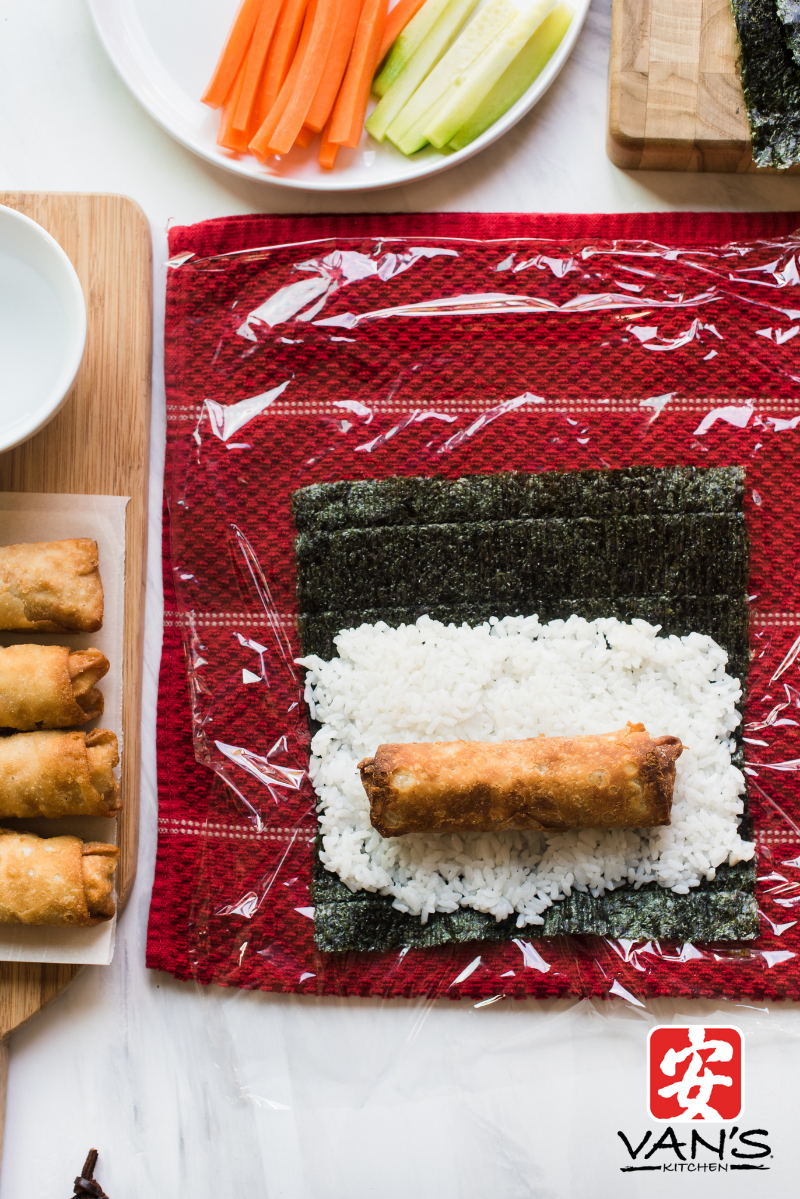 Now it's time to reroll your egg roll into a sushi roll.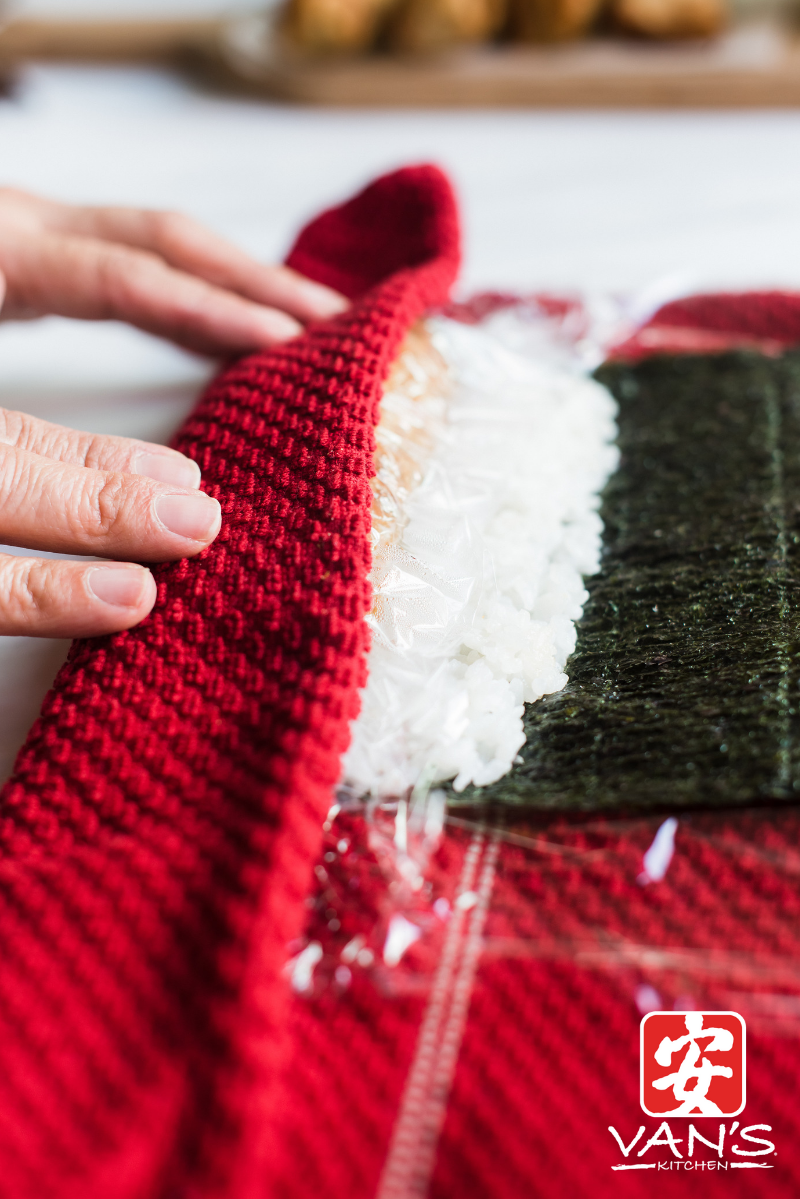 Yum! That is one easy and delicious meal!
Happy Eating!
Egg Roll Sushi
Prep time:
Cook time:
Total time:
Ingredients
2 cups short-grain or sushi rice
2 cups water
¼ cup rice vinegar
2 tablespoons sugar
1 tablespoon kosher salt
Van's Kitchen Vegetable Egg Rolls
4 sheets nori
Instructions
Rinse and drain the rice under cool running water 2 to 3 times until the water drains clear.
Place the rice in a small sauce pan with water, vinegar, sugar and salt, and bring to a boil over high heat. As soon as it comes to a boil, lower heat to lowest setting, cover pan and cook for 15 minutes. Remove from heat to let it rest. If you have a rice cooker, cook it on the sushi setting.
While the rice cooks, prepare the egg rolls. Preheat the oven to 400°F with a rack placed in the center of the oven. Place the Van's Kitchen Vegetable Egg Rolls on a baking sheet. Bake for 10 minutes, or until crispy and the internal temperature of the egg rolls is 165°F.
To assemble the egg roll sushi, place a piece of nori, shiny side down, on a piece of plastic wrap placed on top of a kitchen towel. Scoop 1½ cups of sushi rice on the nori. Use wet hands to spread the rice and place an egg roll in the lower third of the nori, close to you. Use the towel and plastic wrap to firmly roll the sushi roll. Dip a finger in water and run it on the edge of the nori to seal as you form the roll, pressing firmly.
Use a serrated knife to slice the roll into 6 pieces; start by cutting the roll in half, then cut each half in thirds.
Repeat for remaining rolls.
Serving with soy sauce and enjoy!