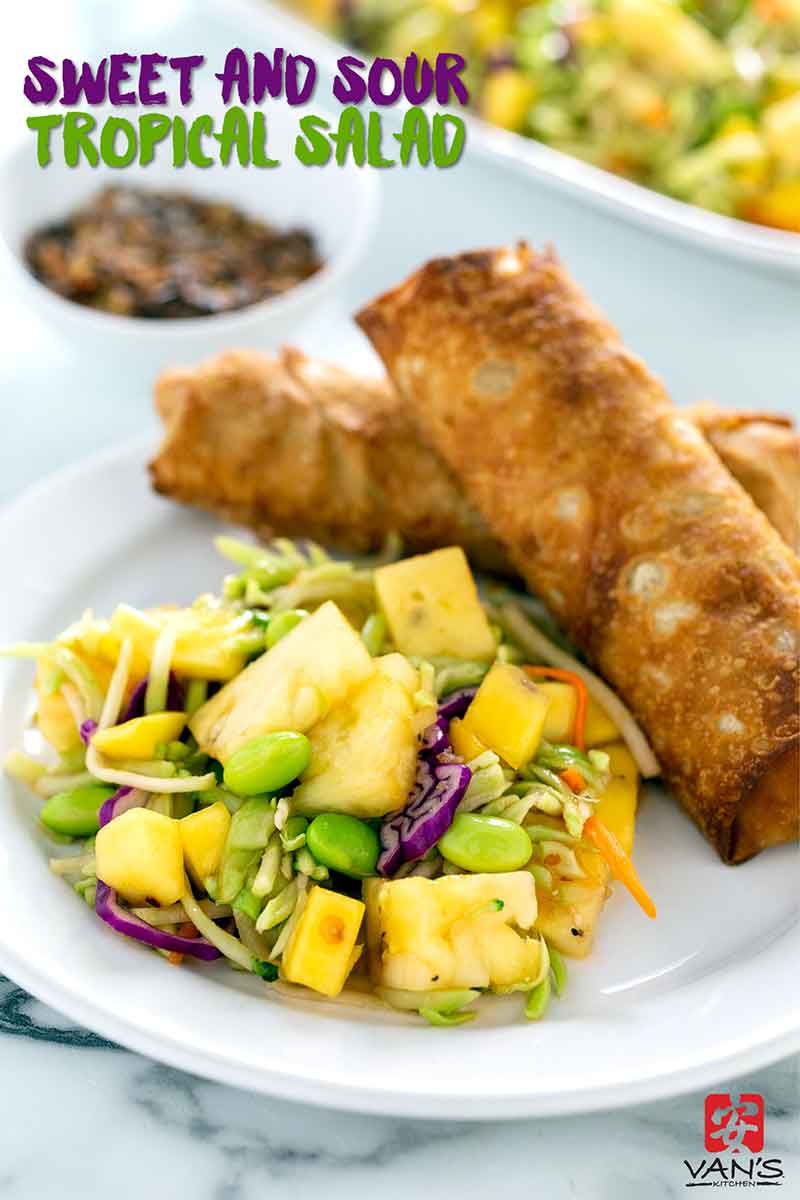 The fresh taste of tropical fruit screams summer. Beyond that, it pairs perfectly with the light, Asian flavors of Van's Kitchen vegetable egg rolls. This light summer salad is filled with crunch and freshness with just the right amount of sweet and tart.
The colors of the dish are bright and summery and the ingredients pack a nutritional punch. Broccoli slaw is the base for sweet tropical fruit and a pop of green from the edamame, which ties perfectly to the edamame found in the Van's Kitchen egg rolls.
This recipe is delicious as is, but you could certainly play with the idea by adjusting the heat to suit your tastes. Also, consider other ingredients like bean sprouts or kiwi. Just be sure to taste as you go and adjust the salt, lime, and heat to get a good balance.
Make this recipe for your next summer outdoor gathering. It is the perfect light side for the cook-and-go egg rolls and your gang will be delighted by the fresh taste.
Sweet and Sour Tropical Salad
Prep time:
Cook time:
Total time:
Ingredients
The ingredients:
¼ cup fresh lime juice + zest of one lime
¾ cup sweet and sour sauce
1 tablespoon chili paste with garlic (sambal oelek)
4 cups broccoli slaw
½ cup edamame
2 cups fresh pineapple, chunks
1 cup fresh mango, diced
1 teaspoon red pepper flakes
1 teaspoon salt
½ teaspoon ground black pepper
8 Van's Kitchen vegetable egg rolls
Instructions
Add lime juice, sweet and sour sauce, and chili paste to a small bowl. Whisk until smooth. Set aside.
Add remaining ingredients to a large bowl and toss to fully combine.
Add sauce to large bowl and toss to lightly coat all ingredients.
Add salt, pepper, and red pepper flakes. Toss lightly. Chill until ready to serve.
Preheat oven to 400˚F. Bake egg rolls for 10-12 minutes or until golden brown and crispy.
Serve chilled salad with egg rolls.