Fresh summer salads are great for a light dinner or taking to a picnic or outdoor gathering. This bright, Asian-inspired salad offers plenty of flavor and is filled with fresh, crunchy vegetables. To make it even more healthy, it has a base of quinoa instead of pasta or noodles. The spicy orange flavor is a familiar one, and your gang won't even realize how healthy this dish really is.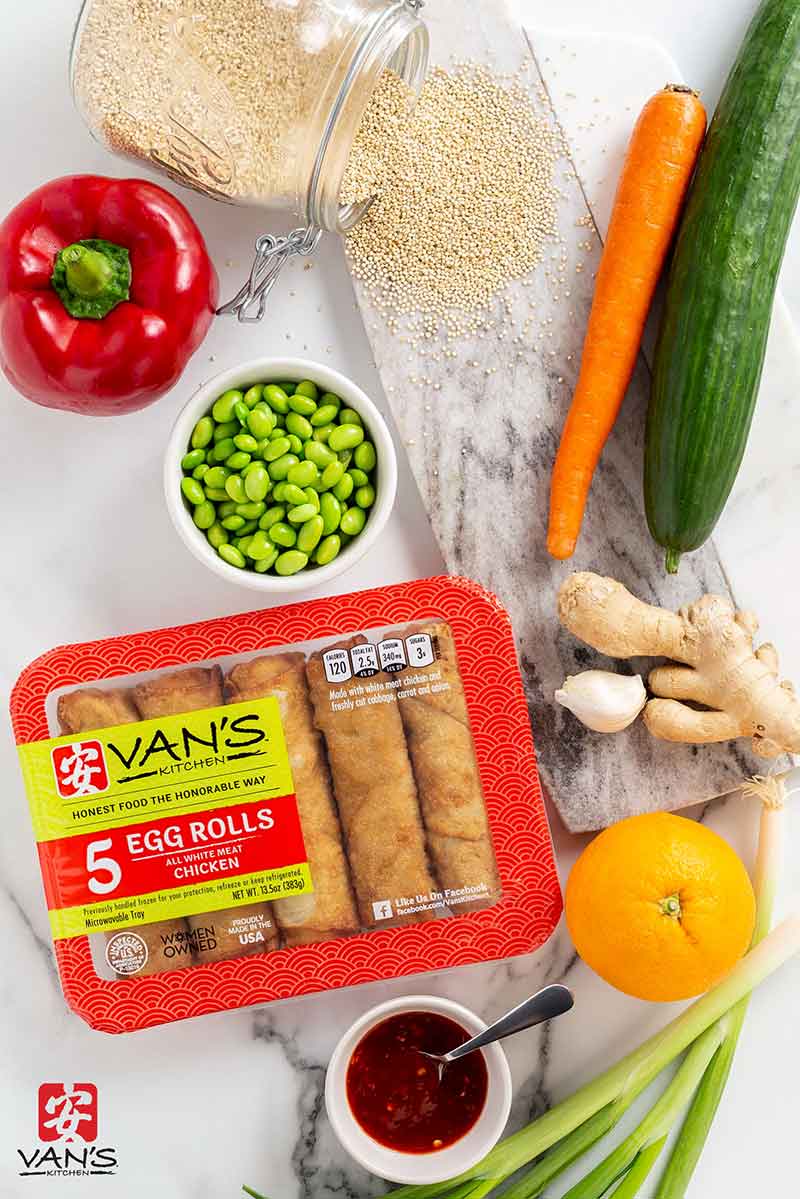 The flavor of this dish is further enhanced with the addition of crunchy Van's Kitchen chicken egg rolls. The crispy wrappers add some extra texture and the filling is already perfectly seasoned to boost the flavors of the sauce.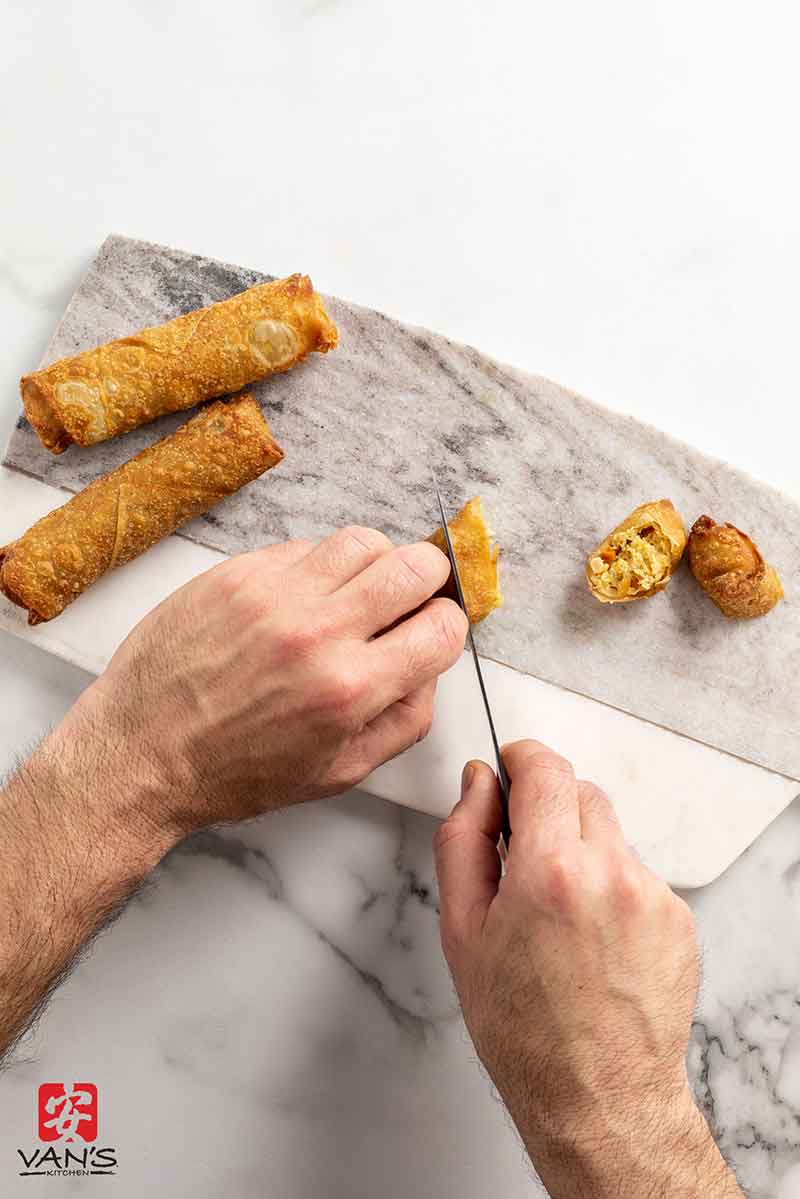 Before you start, there are a couple of basic things that will make this recipe much more successful. First, rinse your quinoa before you cook it… not just for this recipe, but for every quinoa recipe. It will remove some of the coating that sometimes makes quinoa taste bitter. Secondly, be sure to remove the white pith from the inside of the red pepper. That also adds bitterness to the overall flavor… and it is not very pretty. Lastly, cut your egg rolls with a serrated knife, and let the knife do the work. By lightly sawing the egg rolls you will get lovely even slices rather than flattened ovals with crushed wrappers.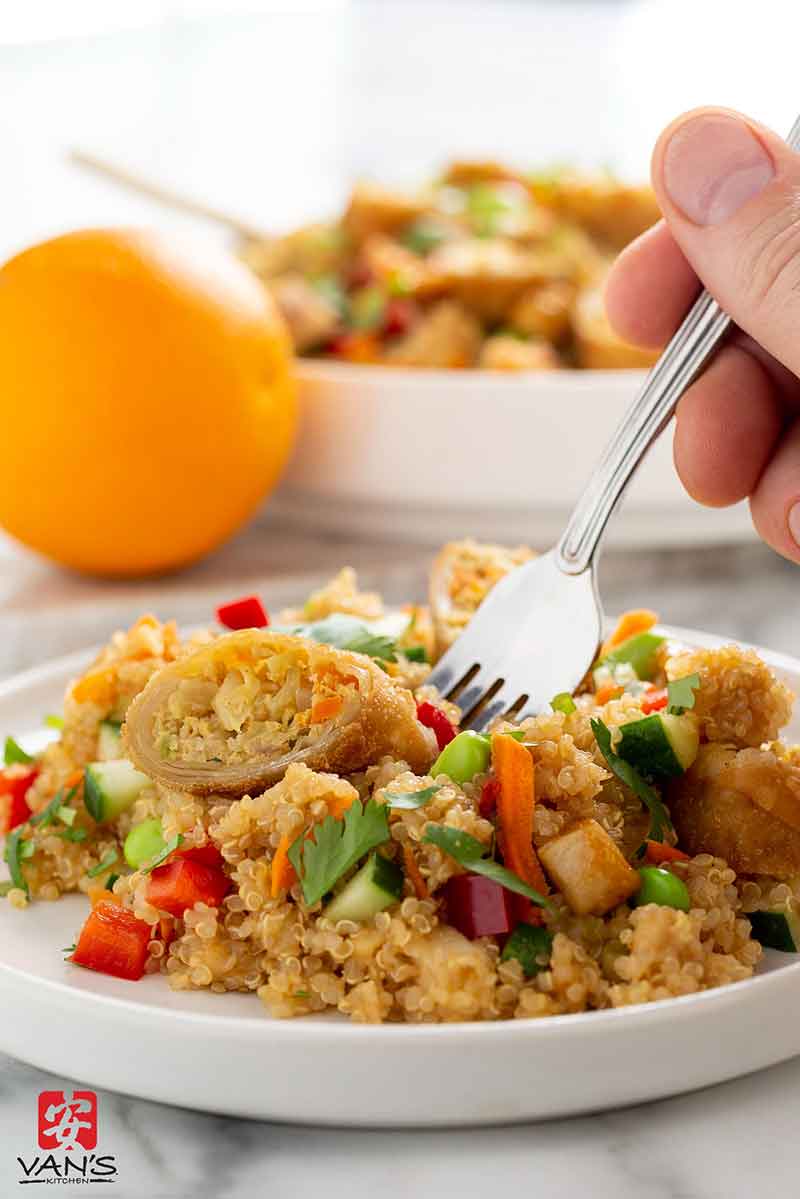 If you are making this dish for an outdoor gathering, you can prepare much of it in advance. Prepare the quinoa and refrigerate it for up to a day before assembling the salad. Additionally, you can prepare the sauce ingredients and chop the veggies a day ahead. Then it is just a matter of cooking the chicken and egg rolls and tossing everything together. Quick, easy, and healthy… now that's a winning summer combination.

Spicy Orange Chicken and Quinoa Salad
Prep time:
Cook time:
Total time:
Ingredients
1 cup quinoa, rinsed
2 cups chicken stock
½ teaspoon salt
1 pound chicken breast, cut into small cubes
2 teaspoons cornstarch
¼ cup fresh orange juice + zest of one orange
2 tablespoons low-sodium soy sauce
2 tablespoons honey
1 tablespoon rice wine vinegar
1 tablespoon chile paste with garlic (sambal oelek)
2 tablespoons vegetable oil
3 cloves garlic, minced or grated
1 tablespoon fresh ginger, minced or grated
½ cup scallions, thinly sliced
4 Van's Kitchen chicken egg rolls, cut into ½ slices
¾ cup red bell pepper, diced
¾ cup seedless cucumber, diced
¾ cup carrot, grated
½ cup edamame
½ cup fresh cilantro, finely chopped
Instructions
Bring quinoa, chicken stock, and salt to a rolling boil. Add lid and turn heat to lowest setting. Cook, undisturbed, for 15 minutes. Remove from heat and allow quinoa to rest, covered, for 5 more minutes before removing lid and fluffing with a fork. Cool slightly and then transfer to a bowl. Place bowl in refrigerator until ready to assemble.
Preheat oven to 400˚F.
Place chicken in a bowl or plastic storage bag. Cover the chicken with cornstarch and toss to fully coat all of the pieces. Set aside.
Place egg rolls on a baking sheet and bake for 10-12 minutes or until golden brown and crispy. Remove from oven and cool to room temperature.
Add juice, zest, soy sauce, honey, vinegar, and chili paste to a bowl. Whisk to fully combine. Set aside.
Heat a skillet over medium-high heat and add oil to heat it. Add ginger and garlic and toss in the oil for just 20-30 seconds. Add chicken and sauté for 5 minutes to cook through completely. Add scallions and orange sauce mixture. Cook until slightly thickened, about 2-3 minutes. Set aside to cool.
Cut all of the vegetables and slice the egg rolls. Add the quinoa and the chicken with sauce to a large bowl. Toss lightly. Test for seasoning and add salt to taste. Add the vegetables and toss lightly to combine. Lastly, gently fold in egg roll pieces just before serving and garnish with additional chopped cilantro.