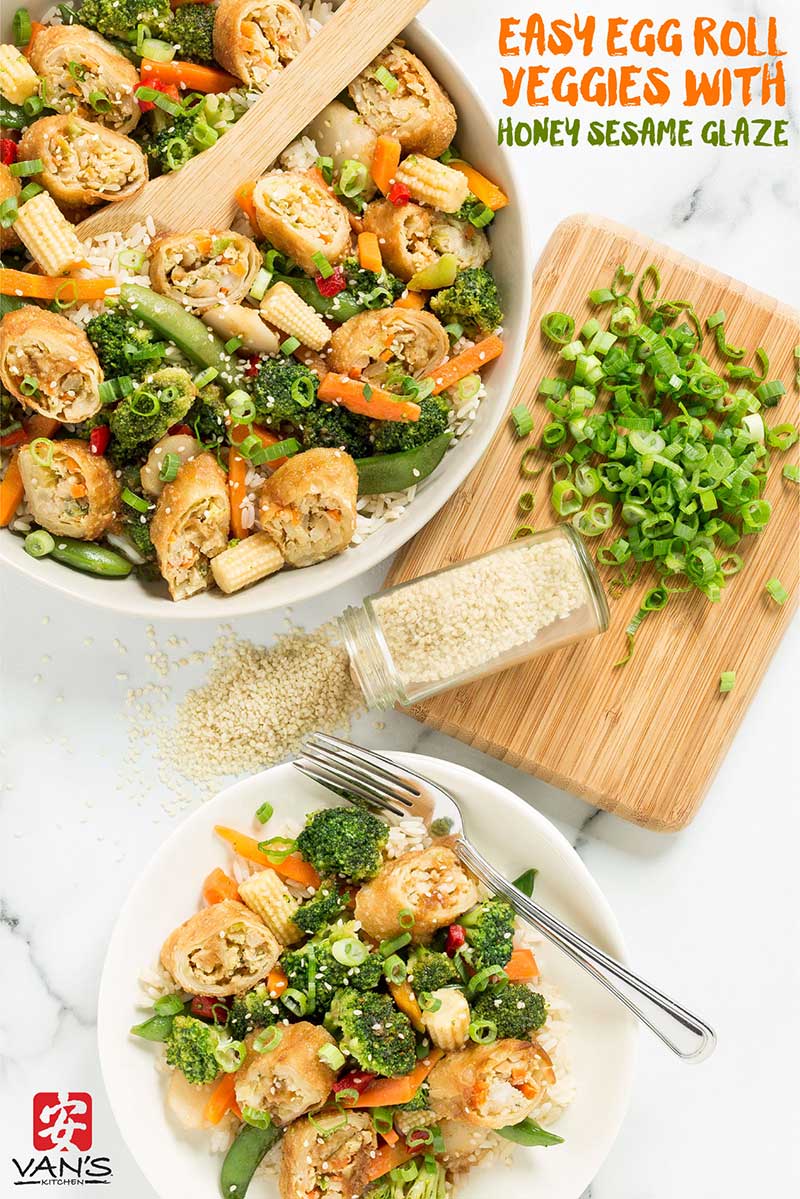 Easy does it. Seriously, this recipe is so simple and quick that you will have dinner on the table in around 20 minutes. Even better, it is loaded with bright, flavorful vegetables for nutrition. The glaze is easy to make while the rest of the ingredients cook and add just enough flavor to tie everything together.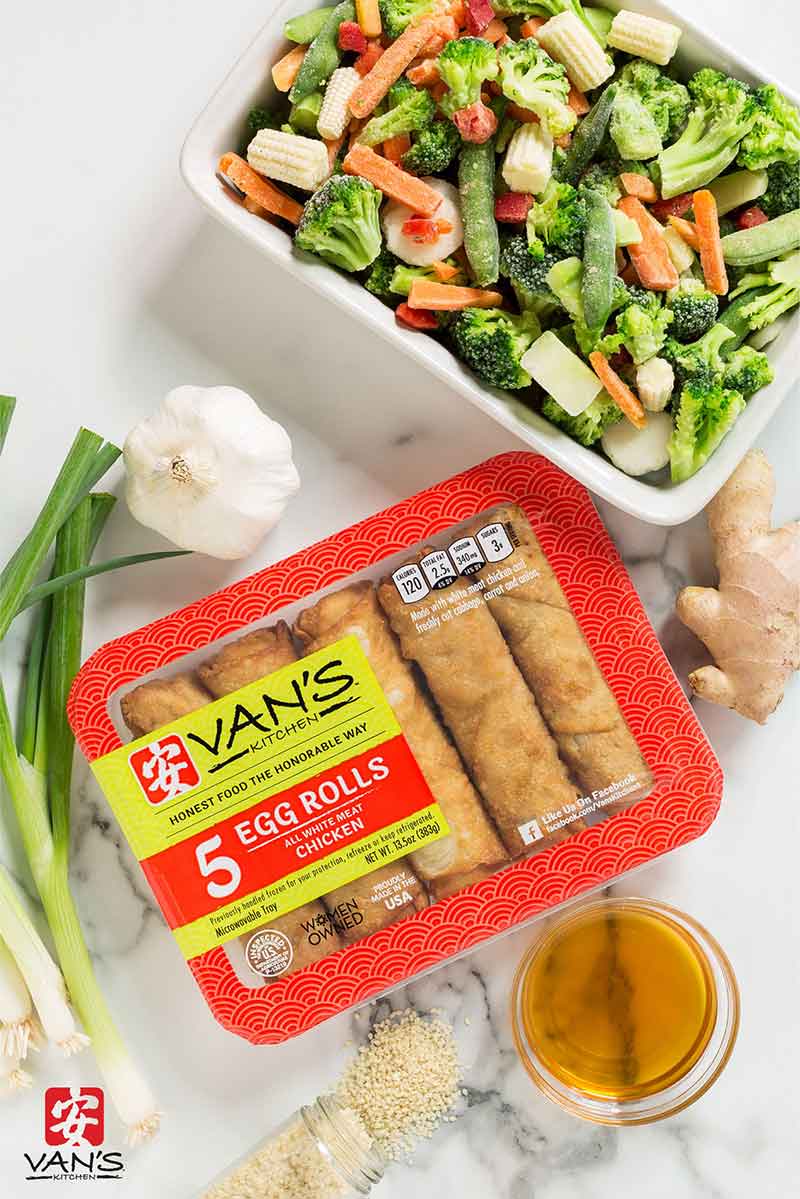 The use of frozen vegetables here makes it perfect for those hectic evenings when you need something quick for dinner… that doesn't come in a paper sack. You can choose any stir fry assortment you like. By keeping some on hand along with Van's Kitchen egg rolls, you'll be sure to always have a meal just minutes away.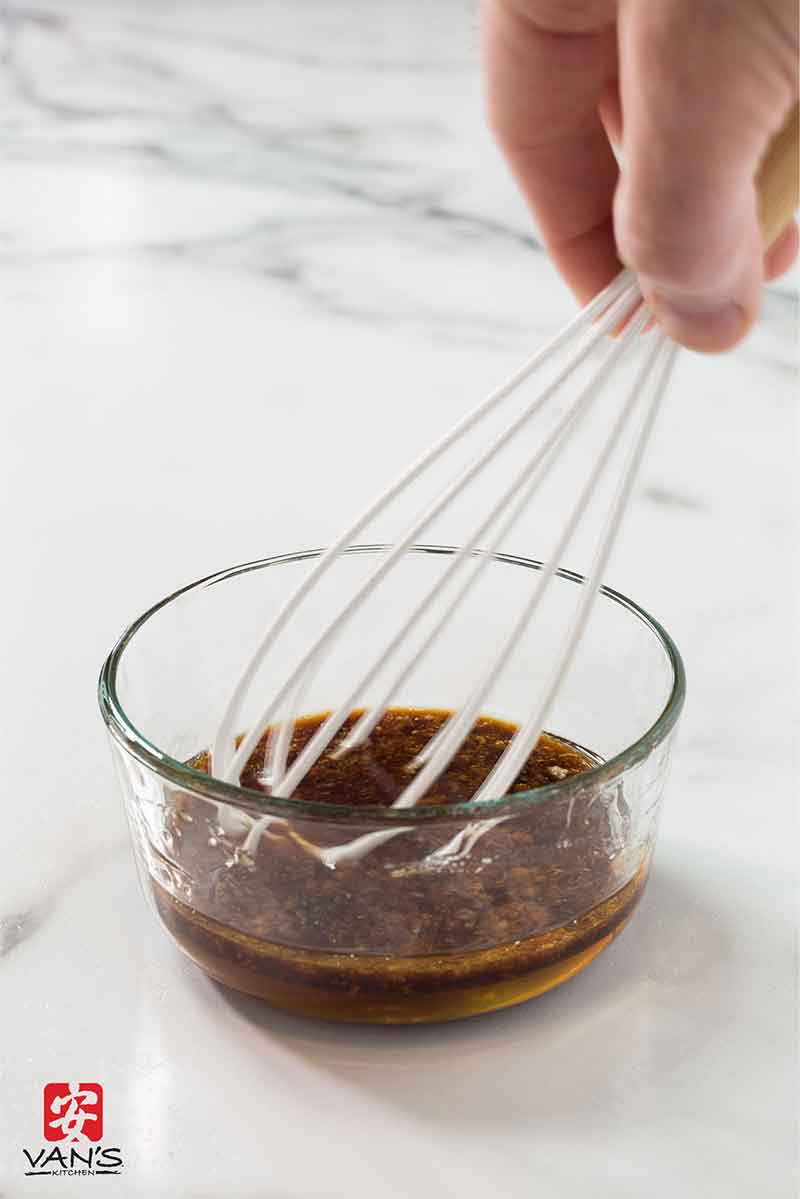 The amount of glaze for this recipe is just enough to lightly coat the vegetables, while still allowing their flavors to shine through. The addition of Van's Kitchen egg rolls, sliced and scattered throughout the dish, adds plenty of asian flavor and some welcomed crunch. Scallions and sesame seeds round out the meal, adding a little something extra to the taste… and presentation.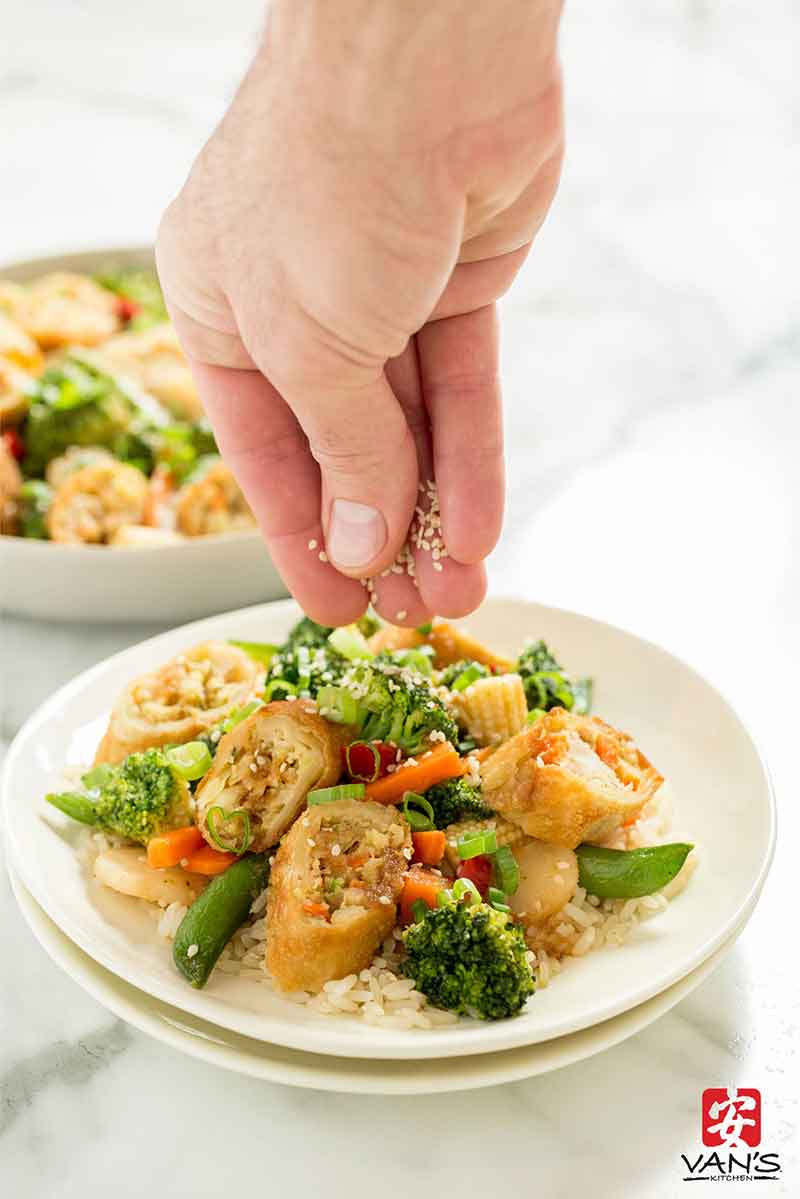 If you are serving this with rice, get that started first. Then, once you have the egg rolls in the oven and the vegetables steaming, make your glaze. Everything will finish at about the same time. Then it is just a matter of plating and gathering everyone together for a fresh and delicious meal.

Easy Egg Roll Veggies with Honey Sesame Glaze
Recipe type:
Egg Rolls Honey Glazed
Prep time:
Cook time:
Total time:
Ingredients
1 package frozen stir fry vegetables
¼ cup water
¼ teaspoon salt
1 package frozen broccoli
5 Van's Kitchen chicken egg rolls
3 tablespoons honey
2 tablespoons low sodium soy sauce
1 tablespoon sesame oil
1 clove garlic, minced or grated
1 teaspoon fresh ginger, grated
1 teaspoon hot sauce
½ cup scallions, thinly sliced
2 teaspoons sesame seeds
steamed rice, optional
Instructions
Preheat oven to 400˚F.
Add the frozen vegetables, water, and salt to a deep skillet over medium heat. Add the lid and cook for 7-9 minutes, stirring occasionally.
Place egg rolls on a baking sheet and bake for 10 minutes. Remove from oven and cool slightly.
While the vegetables and egg rolls are cooking, prepare the glaze by adding the honey, soy sauce, sesame oil, garlic, ginger, and hot sauce to a bowl. Whisk to combine fully.
When the vegetables are steamed, add all but 2-3 tablespoons of the glaze to the pan and toss the vegetables to coat. Cook for 2-3 more minutes, tossing frequently, to cook off any excess water. Taste for seasoning and add a bit of salt, if desired.
Cut the egg rolls into ½ inch slices. Place vegetables on plates (steamed rice optional) and add egg roll pieces to each plate. Drizzle egg roll pieces with remaining glaze. Add sesame seeds and sliced scallions before serving.