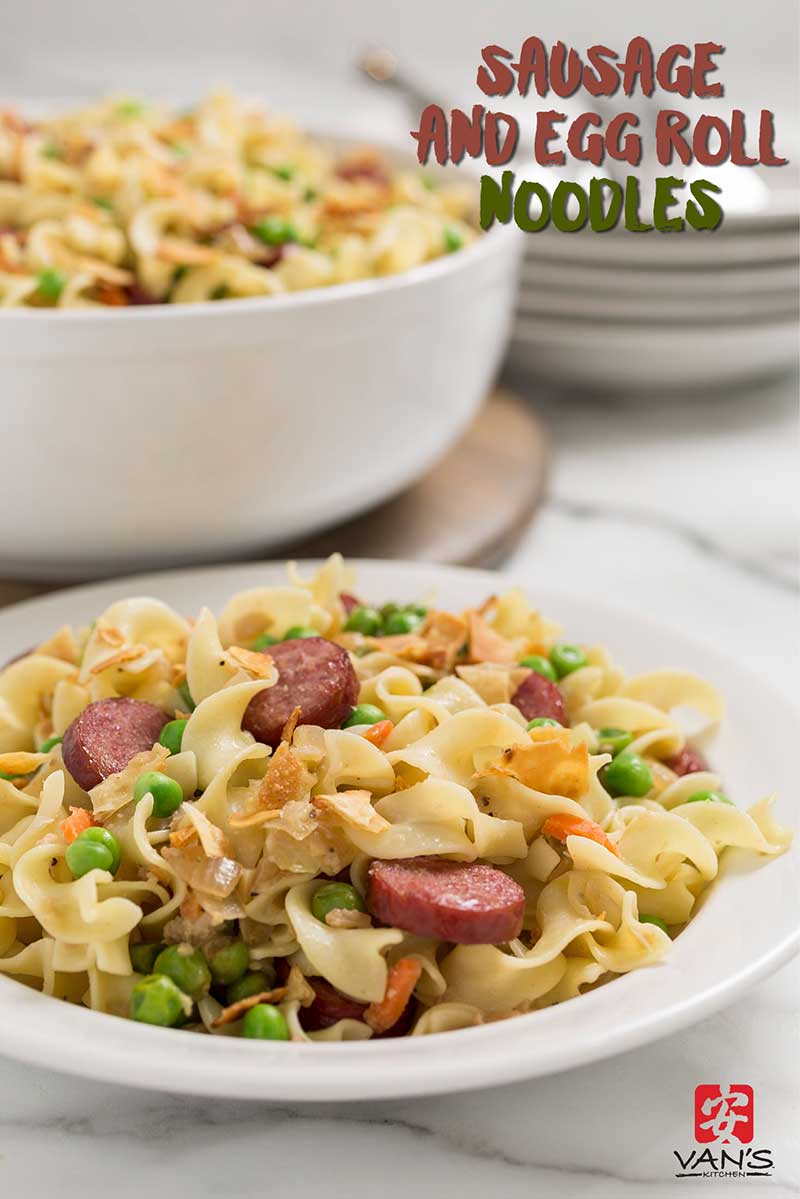 Quick and easy are two things that appeal to anyone who is time-challenged and still wants to provide a tasty, home-cooked meal for their family. This super simple recipe combines loads of flavor with easy steps so you can have dinner on the table in less than 30 minutes.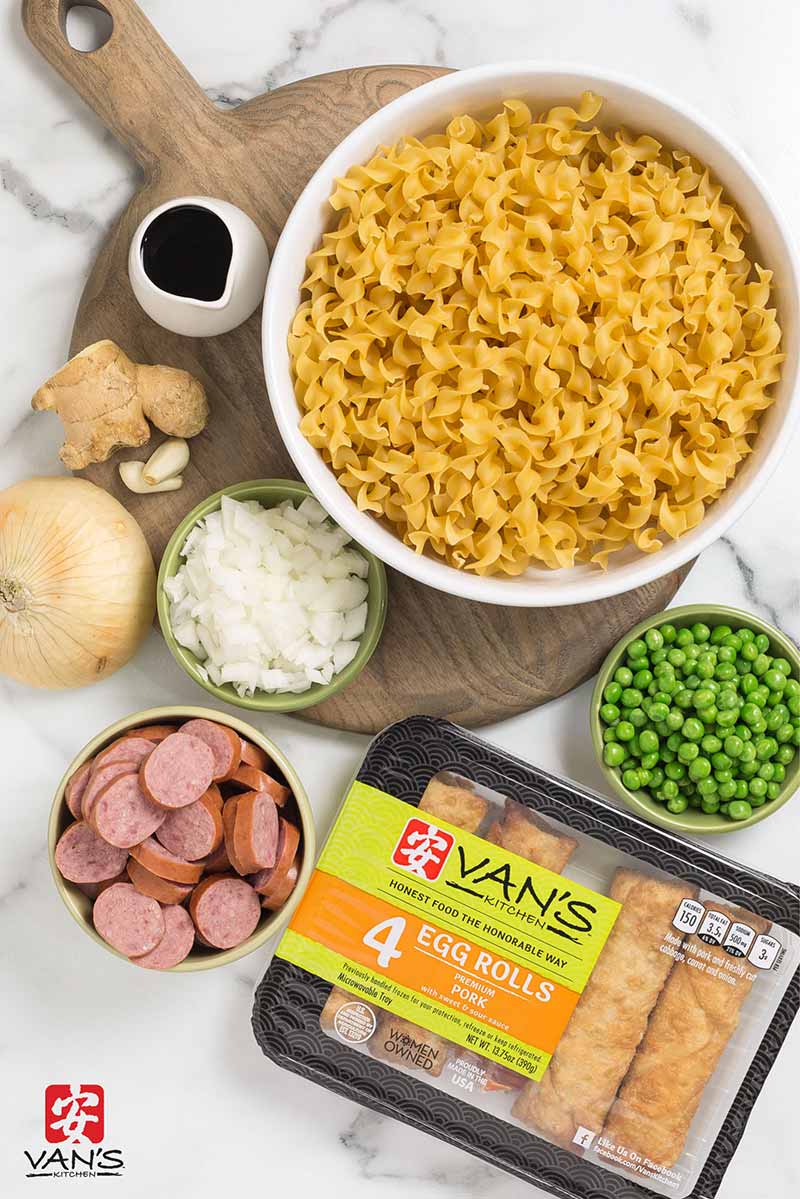 The addition of Van's Kitchen pork egg rolls turns this otherwise bland dish into something robust with flavor and extra nutrition. The crumbled up egg roll wrappers added at the end provide some much needed texture to the dish. The peas have a nice pop and add color along with the carrots from the egg roll filling. In short, this 'almost' one pot meal has it all.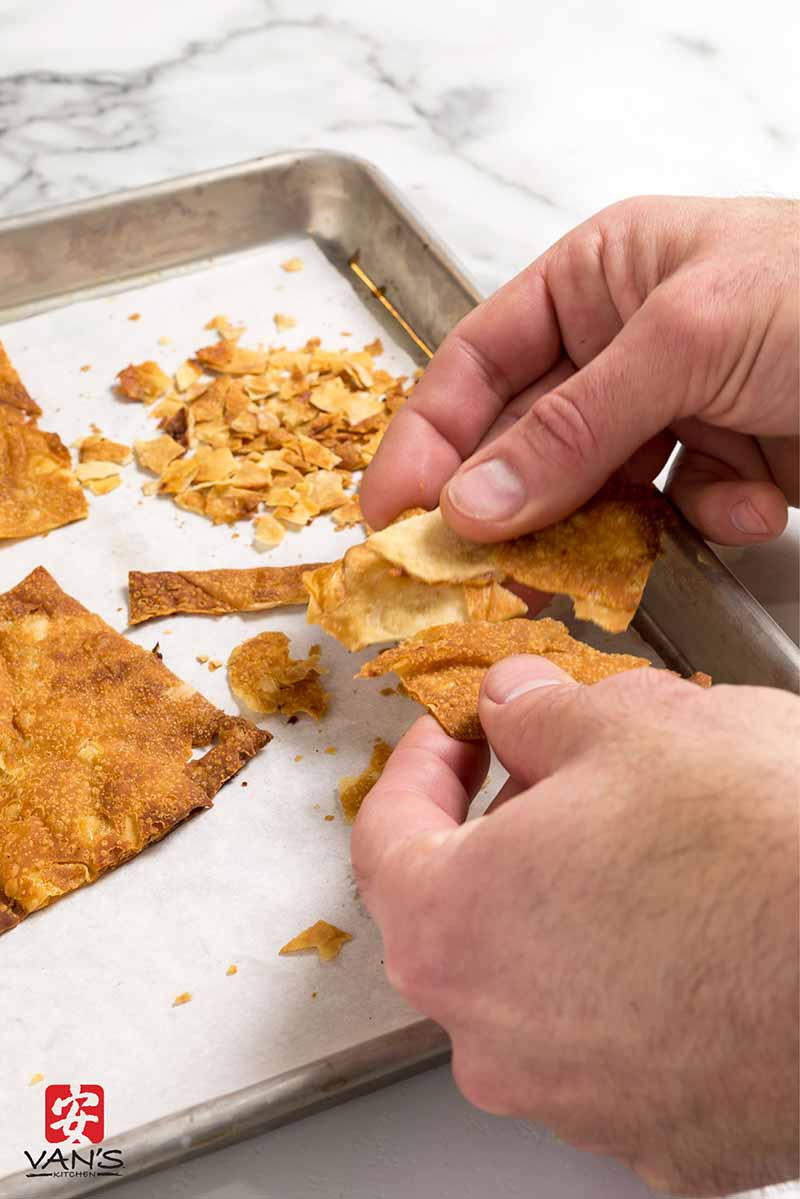 These kinds of noodle dishes are often served with bread crumbs that have been toasted in a pan with butter. There's no need for that here because there is plenty of texture to be found in the egg roll wrapper. For best results, start with thawed egg rolls or soften them up just a bit in the microwave. Then remove the ends and slice down the center lengthwise. Remove the filling and use it to toss with the noodles. Flatten the wrappers and bake them, sandwiched between to baking sheets. After they have cooled, simply crumble them into tiny pieces to add to the dish just before serving.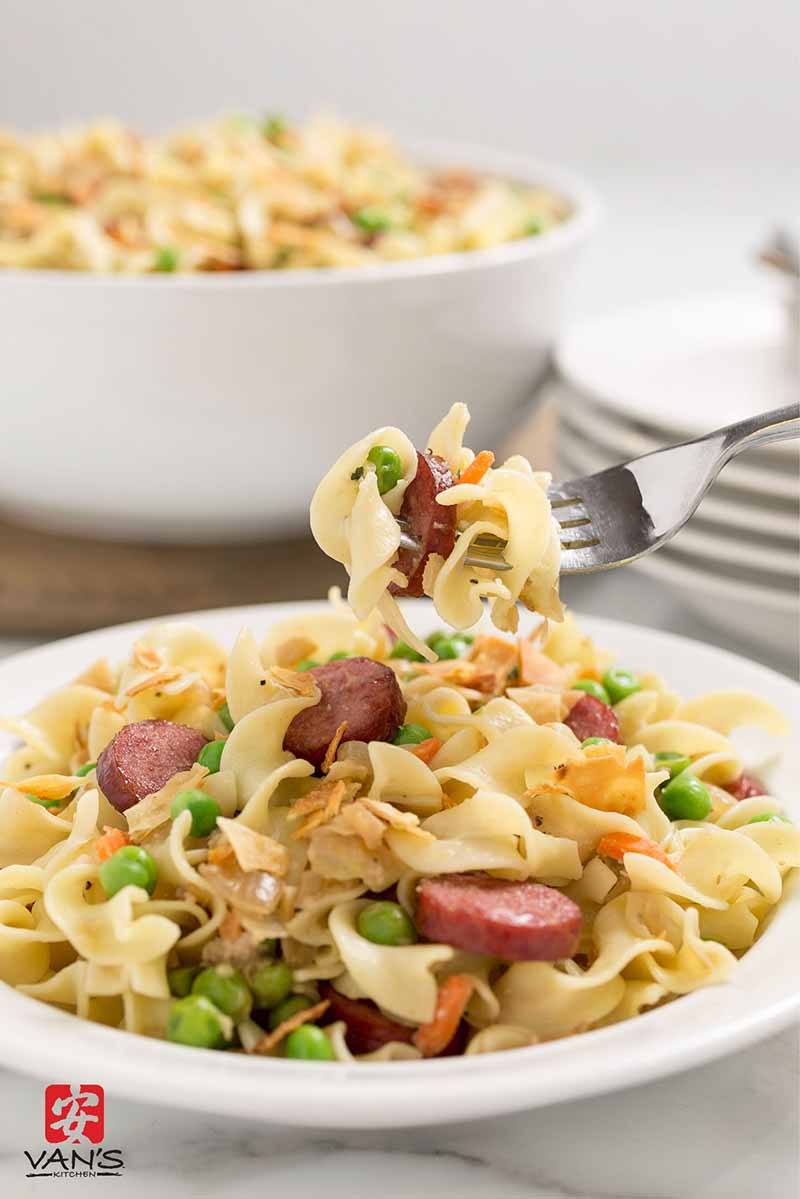 Your gang is going to love this recipe… and you are going to love how easy it is to make. A few simple ingredients + a few easy steps = dinner success. Serve it as a stand alone dish or with a simple tossed salad.

Sausage and Egg Roll Noodles
Prep time:
Cook time:
Total time:
Ingredients
4 pork egg rolls, thawed
8 oz uncooked egg noodles
12 oz kielbasa, cut into ¼ inch slices
2 tablespoons olive oil, divided
¼ cup salted butter
1 cup onion, diced
1 clove garlic , grated
2 teaspoons fresh ginger, grated
1 cup frozen peas
2 tablespoon low-sodium soy sauce
½ teaspoon salt
¼ teaspoon freshly ground pepper
Instructions
Cut the ends from 4 pork egg rolls. Cut through the wrapper on one side of each, lengthwise. Carefully open the egg rolls and remove the filling. Set the filling aside.
Preheat oven to 350˚F. Flatten the egg roll wrappers and place them on a parchment-lined baking sheet. Place another baking sheet on top of the wrappers and bake for 10-12 minutes or until golden brown, dried, and slightly crisp. After cooling slightly, break the wrappers into small pieces.
While the wrappers are baking, cook noodles according to package directions, drain and set aside.
Heat a large skillet over medium-high heat. Add 1 tablespoon of olive oil and sausage. Cook sausage until browned, then transfer sausage to paper toweling to drain slightly. Reduce heat to medium and add remaining olive oil, butter, and onion. Cook until onion is softened and somewhat translucent (about 5 minutes). Add garlic and ginger and cook 1 minute more. Add peas, egg roll filling, and soy sauce. Stir to combine fully. Season with salt and pepper, adjust as needed.
Return the sausage to the pan and toss with the other ingredients. Combine noodles and sausage mixture in a large bowl. Toss lightly. Serve with egg roll wrapper crumbles for garnish.