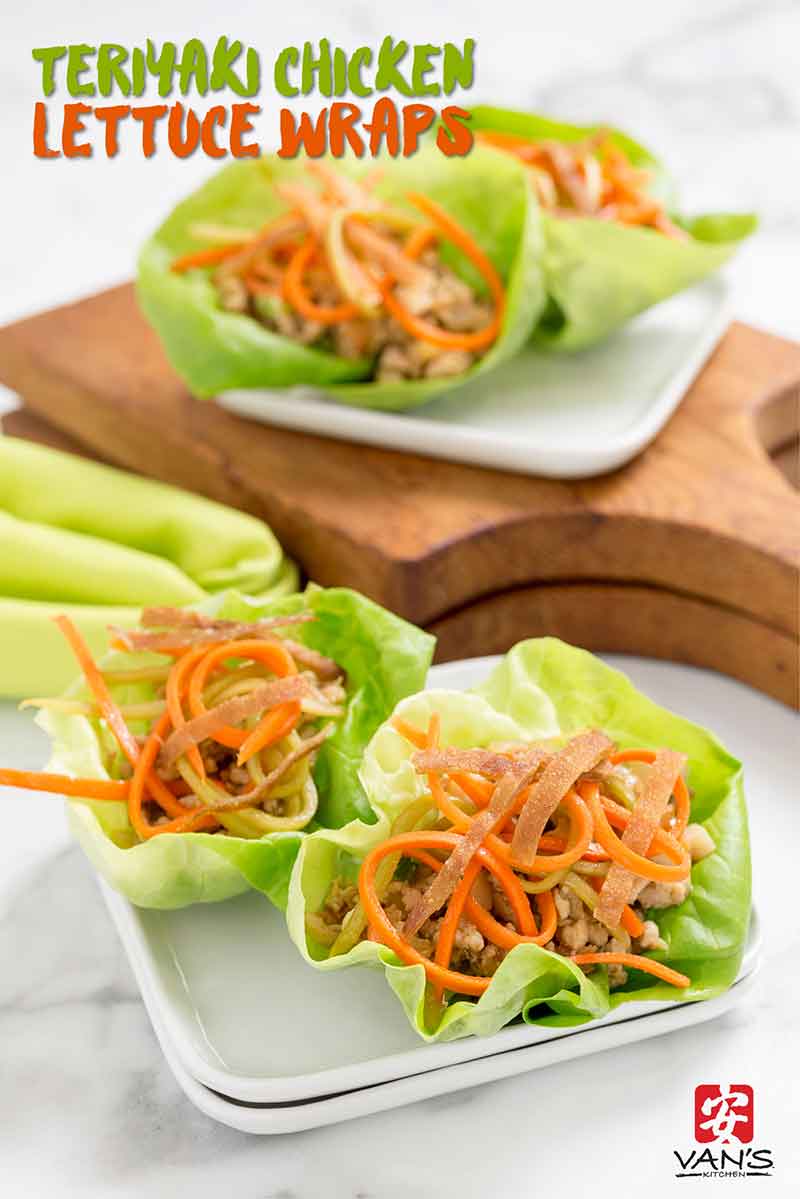 Fresh is best. Creating a tasty meal with bright, crunchy, fresh ingredients can be tricky and often leads people to throwing together some sort of salad. Not to downplay salads, but sometimes you want something a little more substantial and unexpected. These chicken teriyaki lettuce wraps are just the thing. They combine asian flavors with the freshness of carrot, celery, and lettuce leaves. The addition of ground chicken and egg roll filling keeps them light enough to enjoy more than one.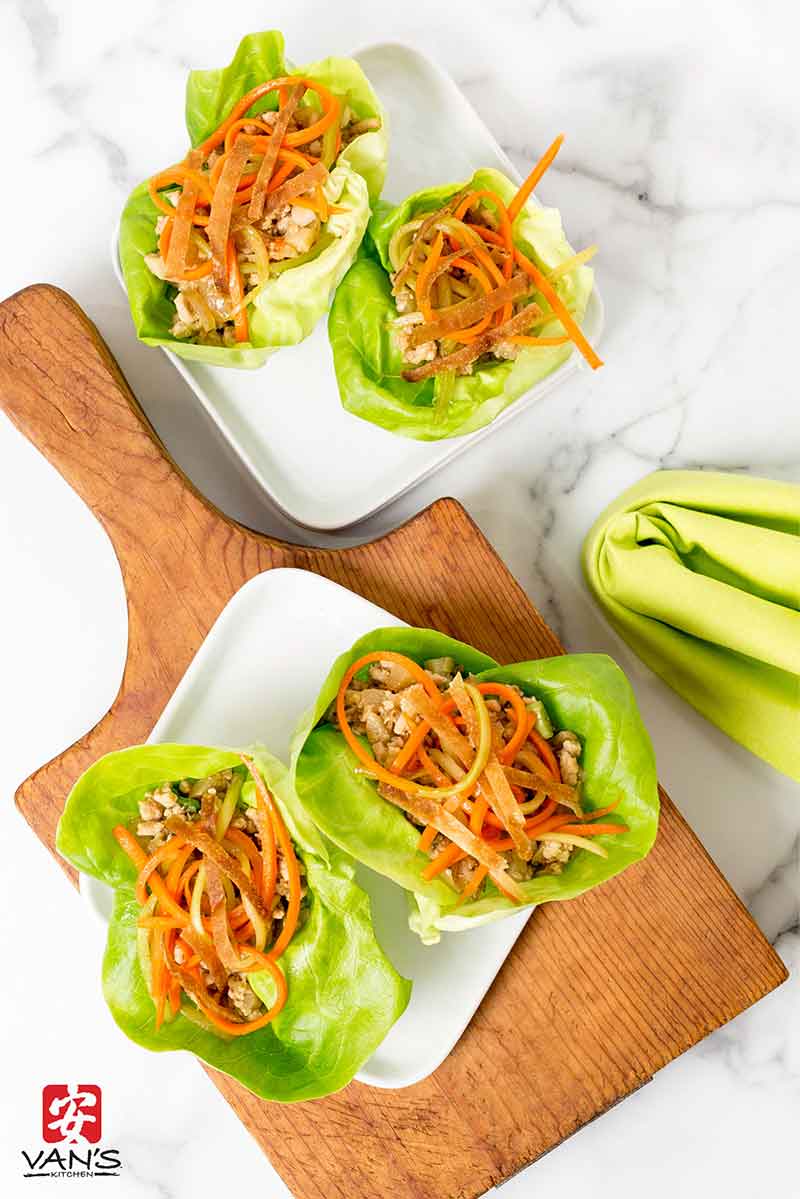 Best of all, this recipe is super easy to make. The entire dish takes 20-30 minutes from cutting board to table. By adding Van's Kitchen egg rolls you get the advantage of asian flavors and texture without having to work too hard. After some quick prep work, you can even get the kids involved in assembling. It's a healthy dinner where everybody wins.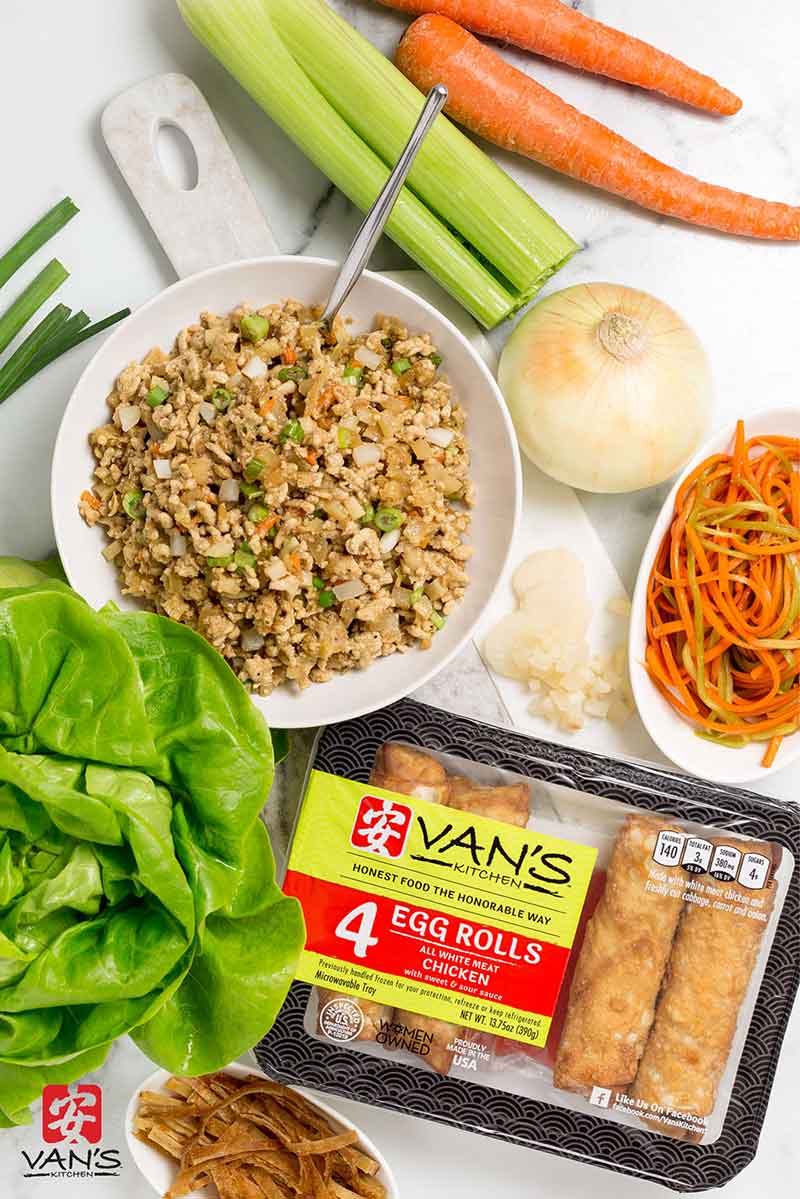 Start by disassembling the egg rolls. Get the wrappers in the oven to crisp up while you start marinated the carrots and celery. Julienne the vegetables with a knife, or better yet, a julienne peeler. That is a real time saver. While the wrappers and veggies do their thing, prepare the filling. Then cut the wrappers into strips and assemble. It's that easy.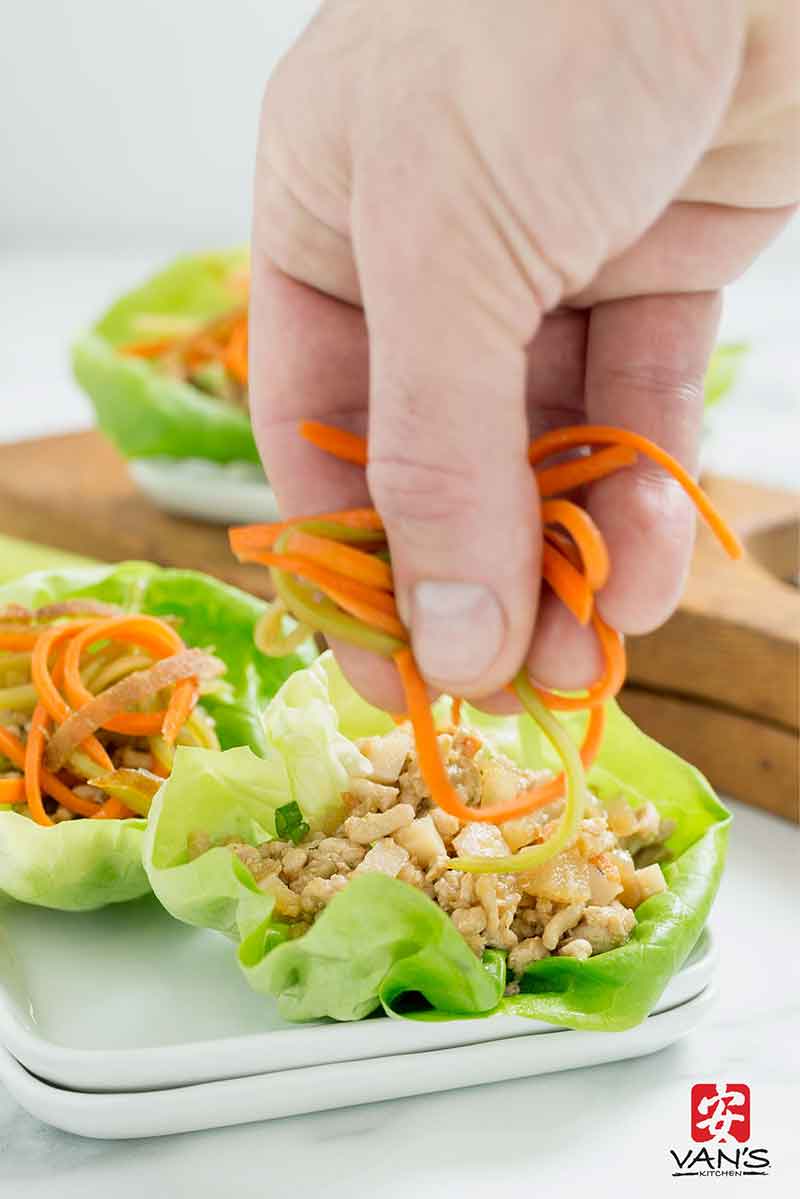 Serve this dish on its own or with some steamed vegetables and rice or a light soup. If you are feeling adventurous, amp up the ginger and add a bit of crushed red pepper flakes. Either way, you will be rewarded with a meal that is light and tasty and better than you imagined. Your gang will be surprised and just how good light eating can be.

Chicken Teriyaki Lettuce Wraps
Recipe type:
Lettuce Wraps
Prep time:
Cook time:
Total time:
Ingredients
For the filling:
4 chicken egg rolls, thawed
1 tablespoon olive oil
1 tablespoon sesame oil
1 pound ground chicken
1 medium onion, diced small
3 cloves garlic, grated
2 teaspoons freshly grated ginger
½ cup teriyaki sauce
1 cup water chestnuts, diced small
3 green onions, thinly sliced
½ teaspoon salt, or to taste
½ teaspoon freshly ground black pepper
butter lettuce leaves
For the topping:
2 teaspoons hoisin sauce
2 teaspoons low-sodium soy sauce
1½ teaspoons rice vinegar
3 tablespoons sesame oil
4 carrots, julienned
4 ribs celery, julienned
egg roll wrapper strips
Instructions
Preheat oven to 350˚F.
Cut the ends from 4 chicken egg rolls. Cut through the wrapper on one side of each, lengthwise. Carefully open the egg rolls and remove the filling. Set the filling aside for later use.
Flatten the egg roll wrappers and place them on a parchment-lined baking sheet, inside of wrapper down. Place another sheet of parchment on top of the wrappers and cover with another baking sheet. Bake the wrappers for 12-15 minutes or until golden brown, dried, and slightly crisp. After cooling slightly, cut the wrappers into thin strips. Set aside.
While the wrappers are baking, prepare the topping by adding the hoisin sauce, soy sauce, rice vinegar, and sesame oil to a bowl. Whisk to fully combine. Add julienned carrot and celery to the mixture and toss to coat. Set aside for at least 15 minutes while preparing the rest of the recipe.
Heat a large skillet over medium-high heat. Add oils and heat them. Add ground chicken and cook until completely cooked through, stirring occasionally to break up meat. Add onion and cook for 5 minutes, stirring frequently. Add garlic and ginger and cook for 1 minute more.
Add egg roll filling, water chestnuts, green onion, salt, and pepper. Stir to combine and heat through. Remove from heat to cool slightly.
Carefully pull leaves from the butter lettuce to avoid tearing them. Arrange the leaves on a platter and fill each with a mound ( about 3 tablespoons) of the chicken filling mixture. Toss the carrots and celery one more time and then drain any excess liquid. Divide the topping over the filled butter lettuce leaves. Top each wrap with a few strips of egg roll wrapper just before serving.