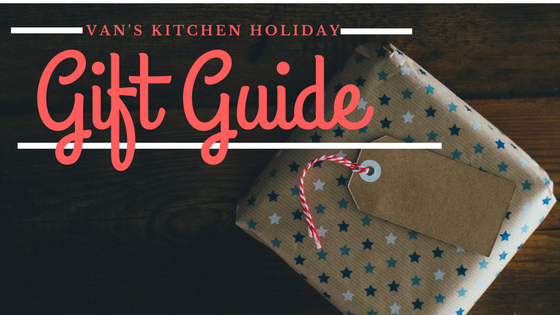 By Christine Coe | Writer, Mother & Holiday Shopper
Oh the weather outside might be frightful but gift giving is so delightful! So if you have no place to go, shop for these beauties and let it snow. I have to say, this year I have done a majority of my shopping online and I'm pretty much good to go except for a few things here and there. I tried to brave Black Friday but it was a bit much for me and Cyber Monday just came and went unfortunately. But, that doesn't mean there aren't deals to be had and this list will prove it! The following is a list of 10 kitchen gadgets and helpers that any cook or chef in your life would be pleased to have. And the best thing – they are all available online so you don't have to worry about wrestling with all the holiday shoppers out there. Happy shopping…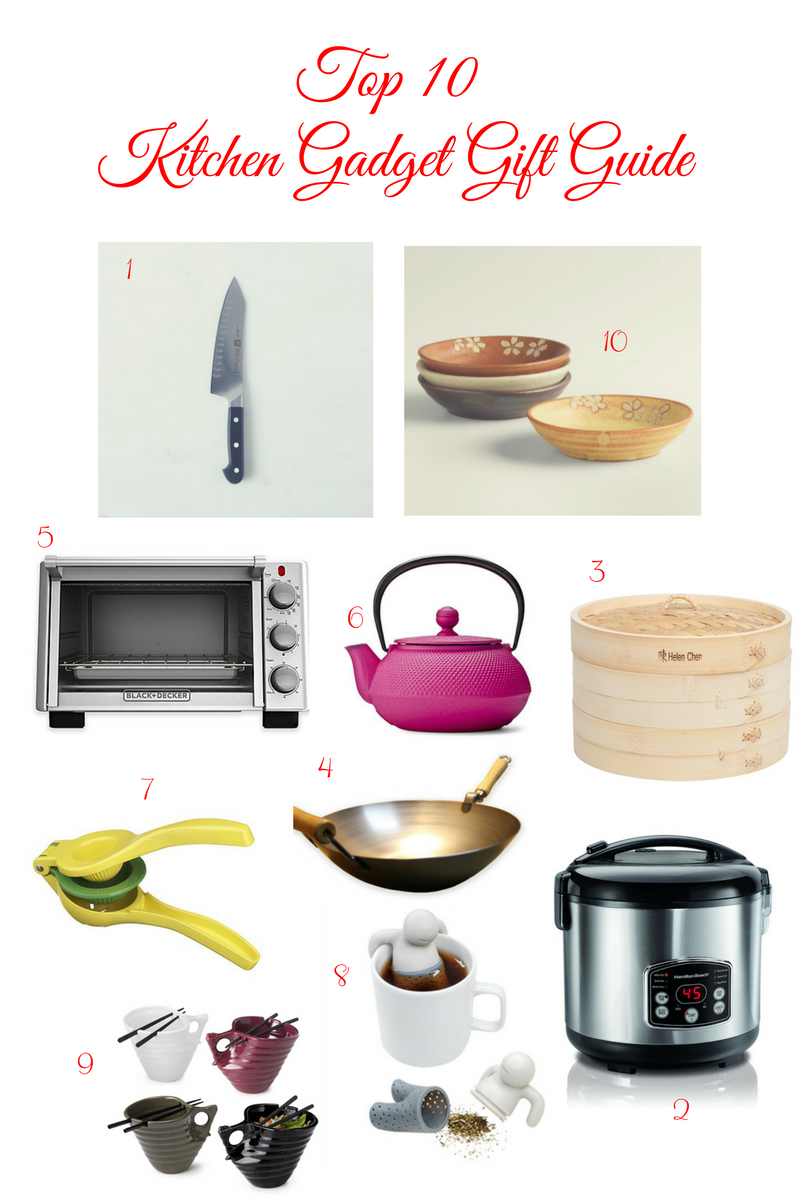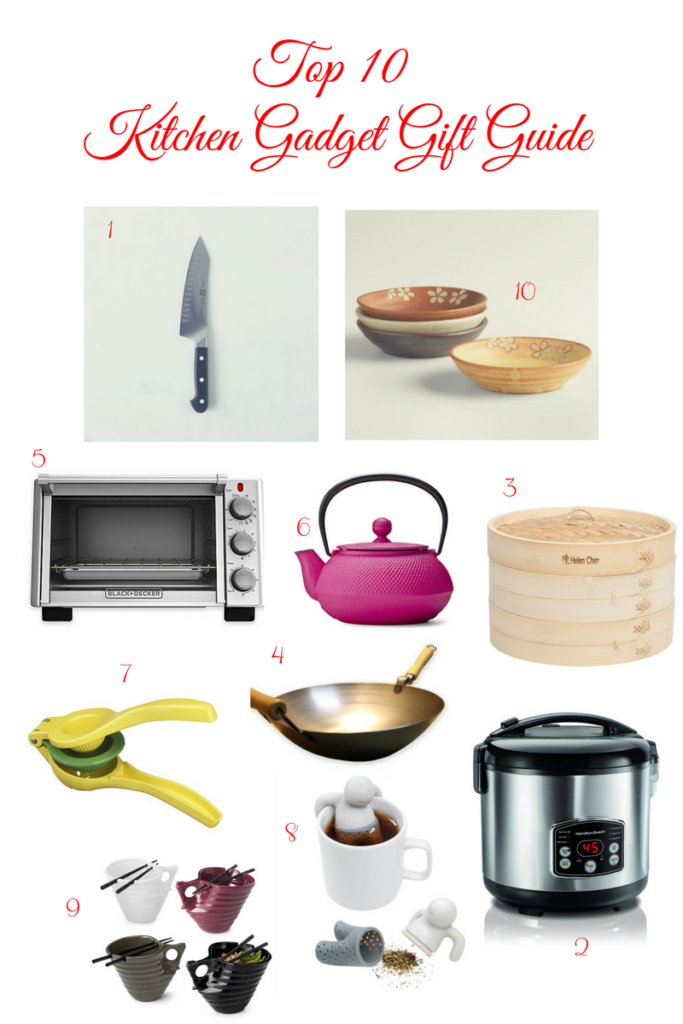 1. Zwilling J.A. Henckels Pro 7″ Rocking Santoku Knife – Food 52 $129
Okay, this knife is on the pricier end but you will have it forever. And it's versatile. According to the website – "the very slightly curved blade supports both Asian-style chopping and Western-style rocking." Food52 has an $8 flat rate shipping so be sure to check out there Gift Guide – which has a little something for everyone and a range of prices to boot.
2. Rice Cooker and Steamer by Hamilton Beach – Amazon for $32.29.
No Asian cooking list would be complete without a rice cooker! Luckily for us, The Sweethome (part of The New York Times Company) did more than a 100 hours of research and testing for us so we don't have to. You can read the article here but they recommended the Hamilton Beach 37549 2-to-14-cup Digital Simplicity Rice Cooker and Steamer.
3. Helen Chen's Asian Kitchen Bamboo Steamer – Amazon, starting at $14.24-$26.50 – comes in 4, 6, 10 and 12 inches
So who doesn't love a good steamer for vegetables, meat and fish?! It is also great for reheating things. You can find these almost anywhere but this one gets 4.5 stars on Amazon.
4. Carbon Steel Wok with Side Handle – the Wokshop, starting at $19.95-$39.95
Made in San Francisco, the Wokshop has high accolades and the largest selections of woks in America…but don't worry if you can't get there, their shipping prices aren't bad.
5. Black + Decker™ 6-Slice Convection Toaster Oven – Bed, Bath & Beyond, $59.99 (Use one of those 20% off coupons that they send out like crazy, then that drops the price to $47.99.)
Before writing this blog, I didn't know toaster ovens could get so pricey! If you don't want to spend that much money, don't worry, they have moderately priced options as well but this is a great price for what you get – like convection technology – I might be giving this gift to myself! And if you're wondering why a toaster oven winded up on this list, well, because they're awesome for heating up all sorts of things, including Van's Kitchen egg rolls
6. Hobnail ­by Tevana, $69.95
Tea pots by Tevana will cost you a little more than average but they are cast iron and will last you like forever. This new line comes in all sorts of fun colors like pink and citron, and they come with a removable stainless steel mesh infuser basket. You'll also find tons of other items for the tea lover(s) in your life and a section on their website for gifts under $25.
7. Lemon & Lime Squeezer – Crate & Barrel, $16.95
This awesome two in one gadget has great reviews. They are great for recipes and cocktails. Wish I had one! Oh, these make great stocking stuffers as well.
8. Tea Infuser – Mr. Fred – Target $7.99
Now who wouldn't adore this little guy? They have other characters as well but I was drawn to this one. Plus right now he's available for free shipping.
9. Udon Noodle Bowls – Uncommon Goods, $36 (But you can get $5 off your order for entering your email, which you'd have to do to order something anyway so it's a win win.)
I know, at $36 each they are a bit pricey but the reviews say they are worth it. And it's like a soup cup and chopstick holder all in one! Plus the chopsticks come with. Maybe a great gift idea for that college kid in your life….
10. Fuji Dip Bowls, Set of 4 – World Market, $11.96
And last but not least, this cute little dip bowls are great for not only our dip recipes but for resting your utensils when cooking or even to hold tea lights. And these Zen-inspired ones are quite cute as well. Plus the collection includes rice bowls, dinner plates, sake cups and more.
Well there you have it folks. I hope you enjoyed this gift guide full of Asian inspired kitchen items. I know I had fun looking for them. If you have some great ideas or have any of these already and want to share your two cents, we'd love to hear it on our Facebook page. Otherwise that's a wrap until next time when we discuss a Girl's Night In Wrapping extravaganza!