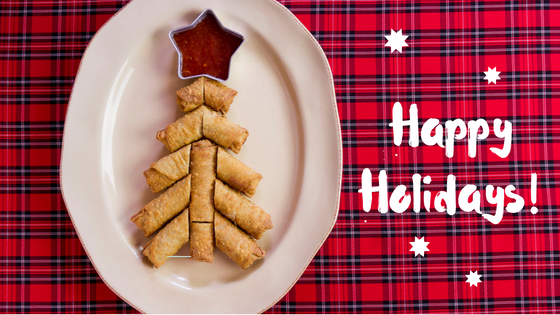 By Christine Coe | Writer, Mother & Spreader of Holiday Cheer
Well the countdown has begun – only five more days till Christmas and another week after that is New Year's Eve. This time of year is full of chances to entertain and host little get-togethers. From wrapping parties to cocktail parties and everything in-between, you can use all these opportunities to show-off your holiday spirit. Whether you do that with decorations or food, you can't go wrong with some of the ideas we've cooked up at Van's Kitchen.
So our egg rolls are always on the menu and the holidays make no exception…especially when you can display them in a Christmas tree! Just use the picture below to use as a guide for cutting the egg rolls: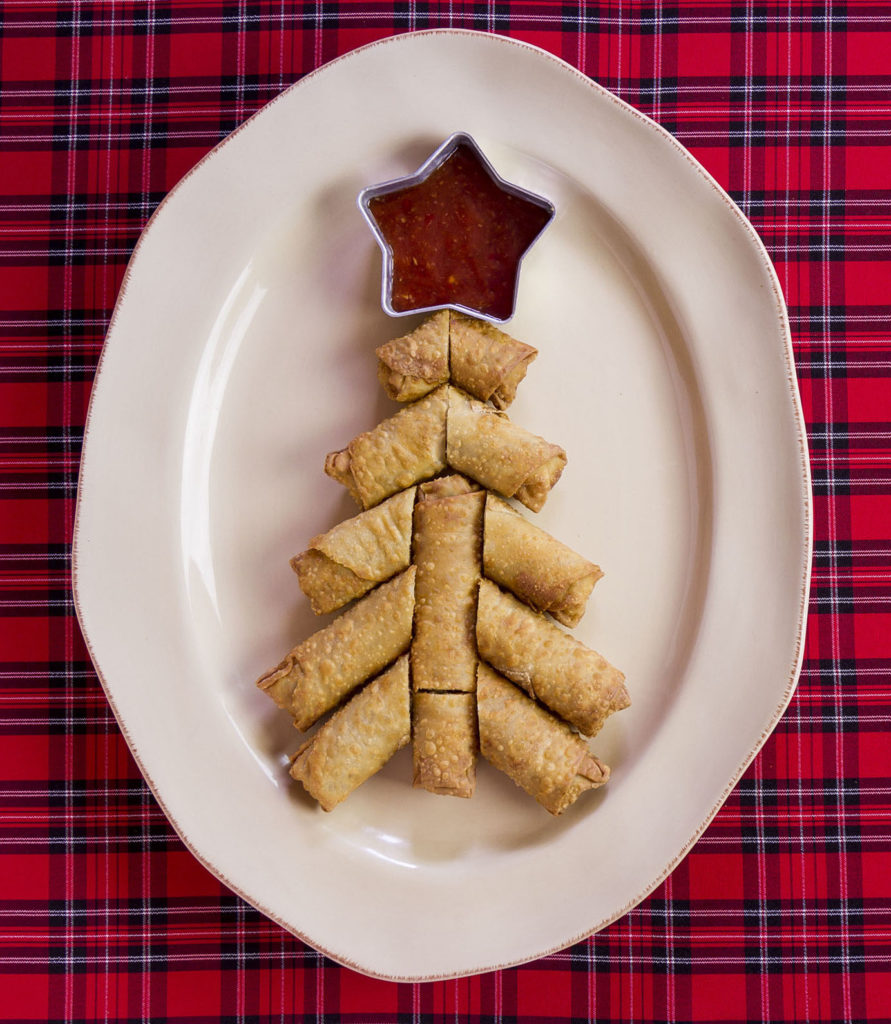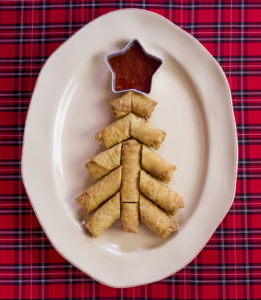 For a festive touch, use a star shaped dipping bowl or a cookie cutter if you don't have one, to put this yummy 5 Spice Dipping Sauce in (courtesy of Food.com). All you have to do is whisk all the ingredients together and then chill before serving.
Ingredients:
2/3 C. Green Onion, minced
1/4 C. Soy Sauce
1/4 C. Dry Sherry (not cooking sherry)
2 Tbsp. Chili Oil
2 Tsps. Sesame Oil
2 Tsps. Five-Spice Powder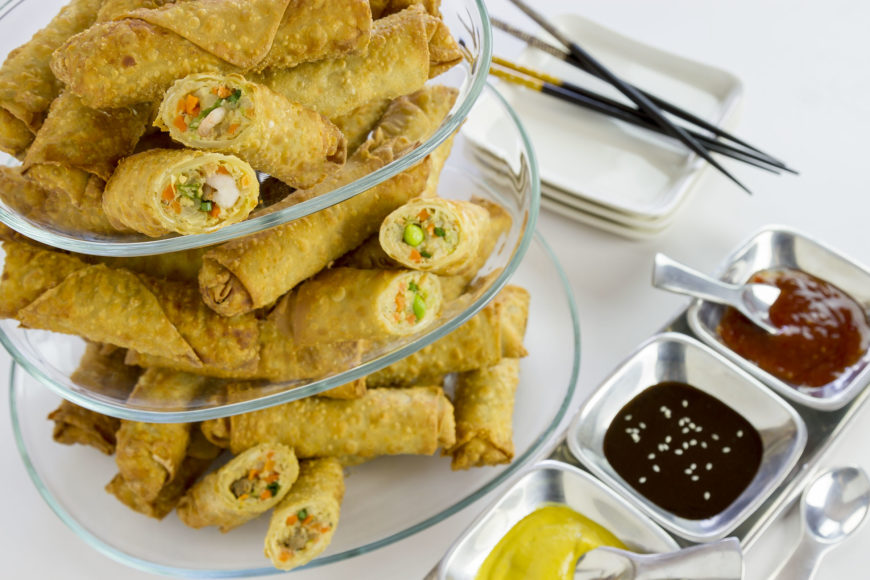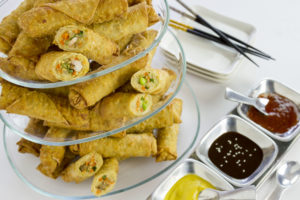 Of course, you can always just arrange your egg rolls on a platter or tiered serving tray as well. It looks nice and can accommodate more egg rolls if you're expecting a lot of guests. Speaking of a crowd, don't forget Van Kitchen's Confucius brand comes frozen in packs of 12 – so you can make a little or a lot!
And what party is complete without a drink in hand? This time I'm singing the praises of hot spiced wine or mulled wine as some call it. It's festive and it doesn't just smell like the holidays, it tastes like it too. Oh, and it helps warm up your bones when it's cold outside. This recipe from Well Plated is made in a slow cooker, so it's easy, no fuss and comes in it's own serving bowl.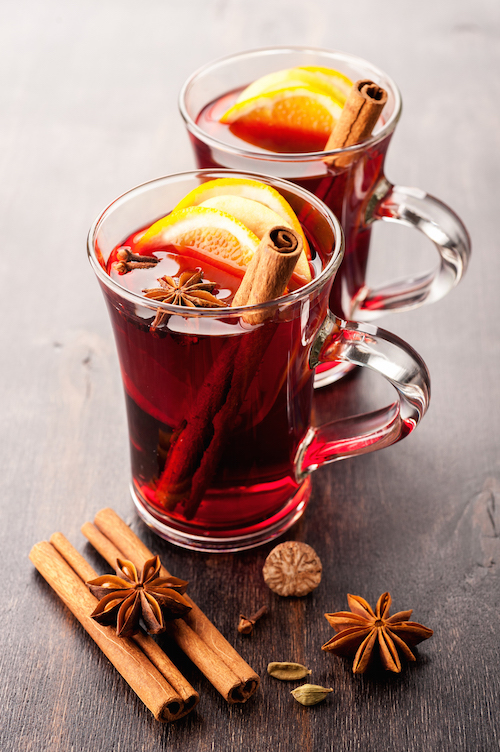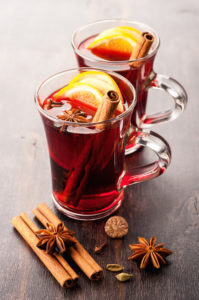 Ingredients:
1 (750 ml) Bottle Red Wine (Cheap wine is ok. Choose something fruity but not too sweet. Merlot, Zinfandel, or Cabernet Sauvignon all work well)
1/4 C. Honey
1 Orange, zested and juiced
2 C. Apple Cider
5 Whole Cloves
2 Cinnamon Sticks
1 Whole Star Anise
1/4 C. Brandy
Orange Slices, for garnish
Cinnamon Sticks, for garnish
Directions:
1. Add wine, cider, honey, orange zest, and orange juice to a 3-quart or larger slow cooker. Stir to combine. Add the cloves, cardamom, cinnamon, and anise. Cook on low until warm, 30 minutes to one hour, depending on your slow cooker. Stir in the brandy.
2. Ladle into mugs and serve with an orange slice and cinnamon sticks. To keep the wine warm, leave the slow cooker on the "keep warm" setting. If your slow cooker does not have a warm setting, alternate between "low" and off.
Last but certainly not least, think about setting up a selfie station for your guests. Not only is it fun, but you're sure to capture some great holiday memories as well. Just put your items on a table or in a basket – think Santa hats, reindeer ears, mustaches are always popular and can be found at a local party store, or even garland can be used in a pinch. Just be creative and your guests will take care of the rest!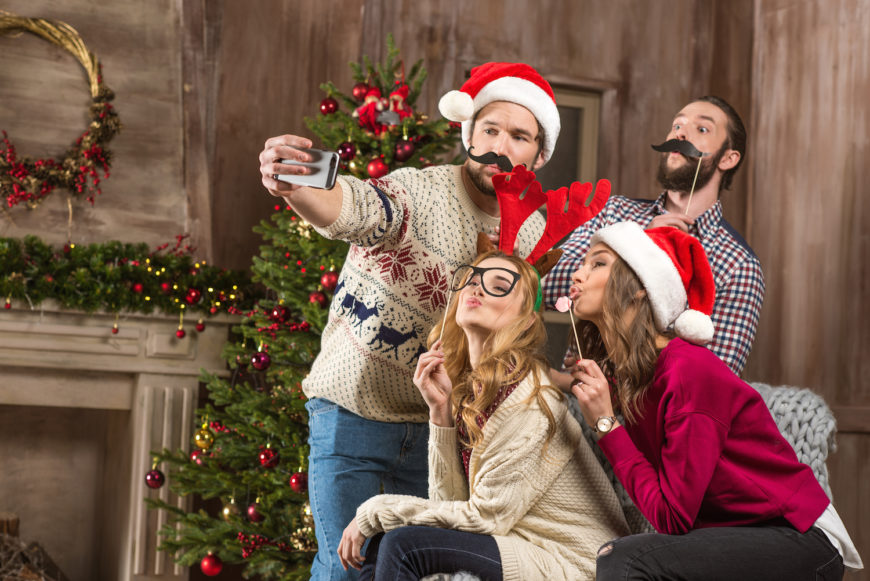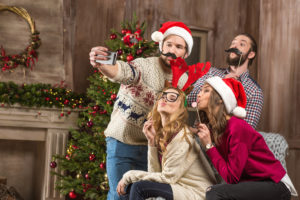 So there you have it. I hope you've enjoyed these suggestions! But no matter what you serve, I'm sure your holiday shindig will be merry and bright. And if you have any holiday entertaining tips, be sure to let us know on our Facebook page. Okay, I think I still have some wrapping to do! Happy Holidays!!