Lo Mein doesn't have to be something you only eat out. It's so easy to make at home and can be ready in just minutes! Make it as a side for Van's Kitchen pork egg rolls and you have a complete meal ready in under 20 minutes.
Tip: Don't stress too much if you can't find authentic Lo Mein noodles at the store. If they are not readily available, replace them with pasta! (We suggest angel hair or vermicelli, but any thin spaghetti will work). The taste is comparable and honestly, you can never have too much pasta in your life.
Mirin, a classic Japanese rice wine, adds a hint of sweetness to create a sweet and savory dynamic to this dish. Mirin is not necessary to make Lo Mein, but makes a difference if you have it on hand! If you don't have mirin but want that same touch of sweetness, simply add two teaspoons of sugar with the soy sauce. This, paired with red pepper flakes and the saltiness of the soy sauce, creates that well-rounded Asian flavor we all crave. Then, star to build the Lo Mein from there by adding the vegetables.
Mrs. Kim believes that you can never have too many mushrooms. She puts them in everything!
This combination of flavors speaks to us. Juicy pork in an irresistible sweet and savory sauce, served with crunchy, hot egg rolls. While this is what we crave today, there are so many other ingredients you can add to this Lo Mein to make it your own.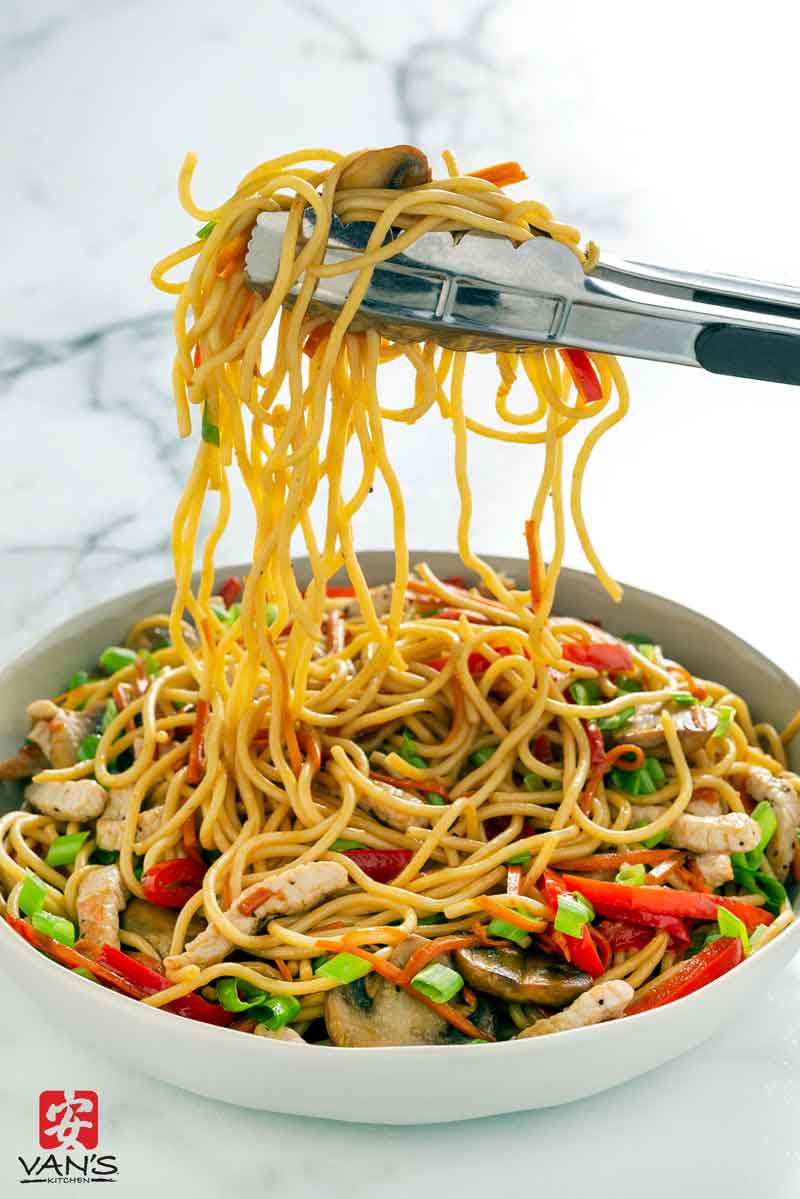 Substitute your favorite ingredients, then send us a photo and tell us how you create your own version of this take-out classic!
Once you have taken the mystery out of making Lo Mein at home, you will want to make it often for your family. They'll be impressed at your culinary skills and you'll be surprised how easy it is to make.
Easy Pork Lo Mein
Recipe type:
Pork Lo Mein
Prep time:
Cook time:
Total time:
Ingredients
The ingredients:
3 tablespoons sesame oil
8-10 ounces pork chops, cut into thin strips about 3 inches long and ¼ inch wide.
salt and pepper
⅔ cup carrot, julienned
1 red bell pepper, cut into thin strips
3 scallions, cut into ¼ inch slices, separating green from white parts
1½ cup sliced mushrooms
6-8 ounces Lo Mein noodles, cooked (use spaghetti if Lo Mein noodles are not readily available)
3 tablespoons soy sauce
½ teaspoon red pepper flakes (optional)
1 tablespoon mirin (optional)
Instructions
Preheat oven to 350˚F. Place egg rolls on parchment lined baking sheet and place in the oven. Bake for 10-12 minutes or until slightly golden brown.
Heat large skillet or wok over medium heat. Add oil and heat through. Add pork strips and season with salt and pepper. Sauté until lightly golden brown. Remove from oil and transfer drain.
Add carrots to the oil and cook for about 3 minutes to soften them. Add the bell peppers and whites of the scallions and cook for 2-3 more minutes. Finally, add the mushroom slices and toss in the mixture. Cover pan with lid and continue cooking, stirring occasionally, for 2-3 minutes or until all vegetables are soft.
Add the cooked noodles to the pan and toss with vegetable mixture to coat. Add the soy sauce and mirin, if using. Add red pepper flakes as desired. Toss to fully combine and cook until noodles are warmed through. Add greens of scallions before serving and toss one more time. Serve with warm Van's Kitchen pork egg rolls.