By Christine Coe | Writer & Mother & Amateur Chef
Ahhh, I love fall! The cooler days, the leaves changing and the beginning of sweaters, cardigans and boots. Yep, it's time to start switching out your wardrobe as we make way for the change of seasons. But you know what else it's time for? It's time to pull out your slow cooker (or crockpot as I call it) and enjoy the ease of throwing stuff in it in the morning and then coming home to dinner already made! What's better than that? Not much in my opinion. My crockpot is used constantly in the fall and winter months. And since it's just me and my daughter, I usually have enough left over for lunch or dinner the next day as well – especially if I make a soup or chili.
Speaking of soup, I found a great slow cooker recipe for Hot & Sour Soup – which happens to go great with Van's Kitchen egg rolls and makes a great dinner when served together. And you know where I found it? I found it in an article with 25 Chinese slow cooker recipes – yep, 25. It also includes awesome favorites like Chicken Lo Mein, General Tso's Chicken and Mongolian Beef. I can't wait to start trying these out. In the meantime, here's where I'm starting…
Slow Cooker Sweet & Sour Soup
Ingredients:
1 cup Firm Tofu, cubed
1 cup Shitake Mushrooms
14 oz. Canned Bamboo Shoots, sliced
2 Carrots, julienned
2 Green Onions, sliced
32 oz. Vegetable Broth
¼ cup Rice Vinegar
¼ cup Soy Sauce or Coconut Aminos
2 tbs. Minced Ginger, fresh
1 tbs. Minced Garlic
1 tbs. Hot Sweet Chili Sauce
Salt & Pepper, to taste
3 tbs. Cornstarch
¼ cup of Cold Water
Directions:
Place all ingredients, except the tofu, water and cornstarch in a 5-Quart Slow Cooker.
Cover and cook for six hours on low.
In a small bowl, combine cornstarch and water to dissolve. Add to slow cooker.
Stir tofu into soup.
Cover and cook for an additional 30 minutes on low.
Serve in individual bowls along with Van's Kitchen egg rolls of your choice.
Fall is also a great time to switch out your produce and stock up with what's in season like squash, apples, pears, sweet potatoes and cauliflower. Oh, and don't forget pumpkin! It makes for great soups as well, which got me Googling again and I found a slow cooker Thai Pumpkin Coconut Soup. I haven't tried it out yet but it sounds delicious. And here's a handy Fall Produce guide courtesy of GoodFoodMama…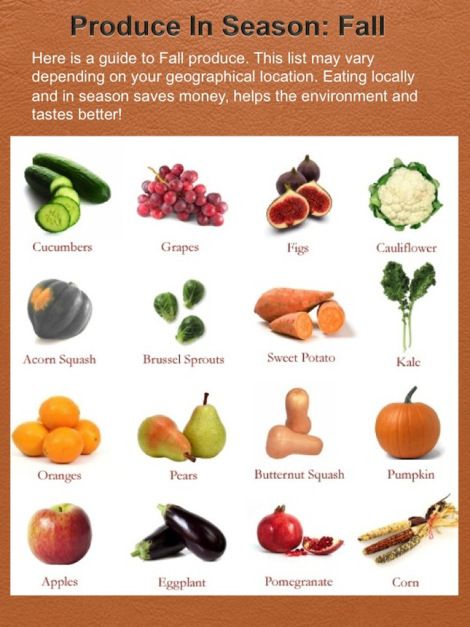 Even if you're still dealing with some hot weather, slow cookers are great because they don't heat up your kitchen like an oven does. Plus, they come in handy on those days you know you won't have time or be in the mood to cook after work. So if have some great go-to slow cooker recipes, we'd love to hear about them too. Post your recipe and pictures on our Facebook page. Happy fall and happy slow cooking!