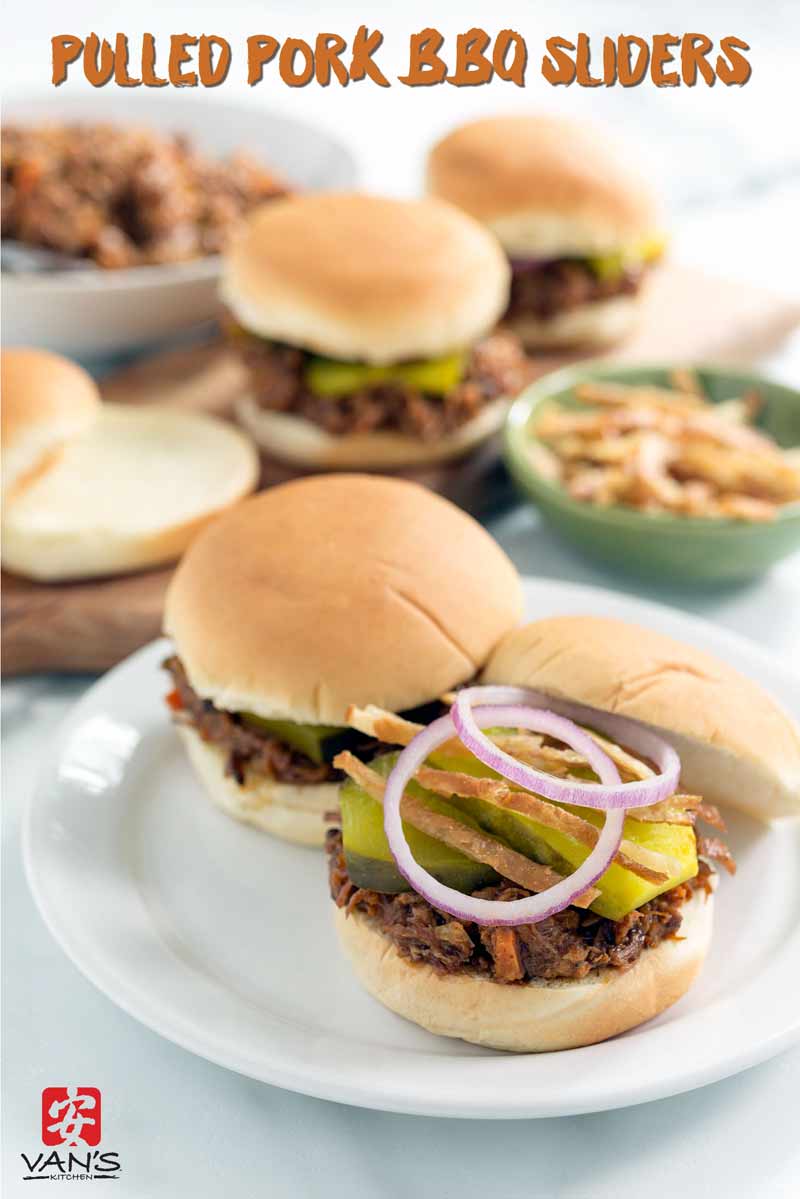 Sometimes you just need a meal that you can put on in the morning and let it cook all day while you finish other tasks. Slow cookers are great for that. You do a little bit of prep early on, go about your business, and all throughout the day the house is filled with the aroma of a great meal to come. These slow-cooked pulled pork sliders are perfect for a hearty meal when the day is done.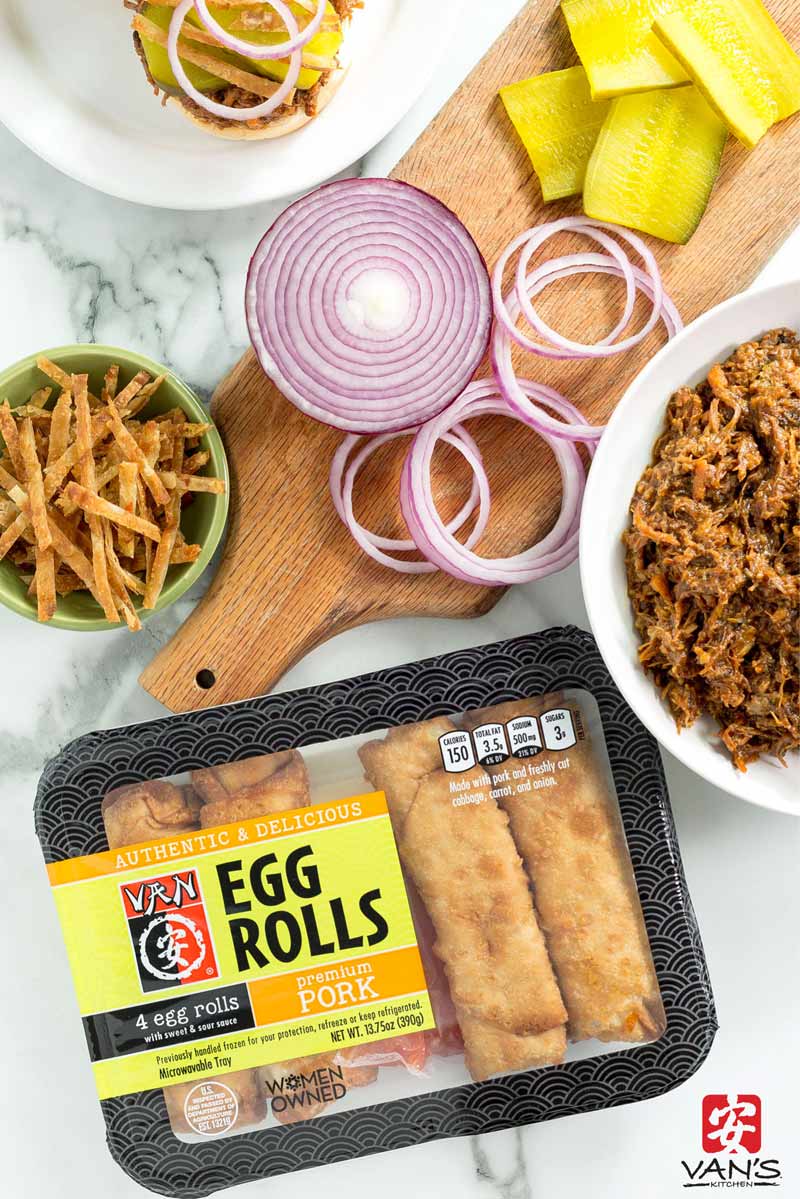 The addition of Van's Kitchen egg rolls adds some Asian flavor to the dish and also a bit of unexpected crunch to the pulled pork by way of the vegetables. It is a step up from ordinary pulled pork and sure to be a crowd-pleaser.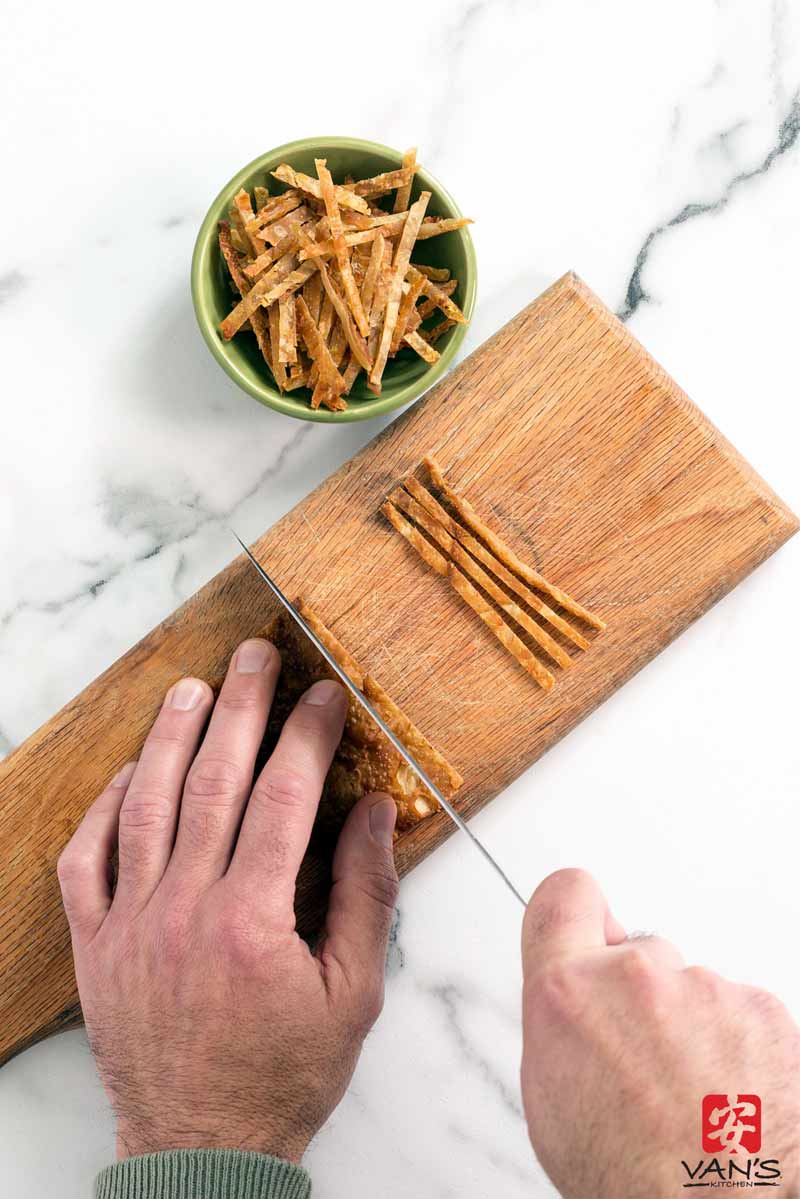 For best results, use Van's Kitchen egg rolls which have been thawed in the refrigerator or put them in the microwave for a minute or two to soften them. Cut the ends off of the egg rolls, slice them open on one side, and remove the filling, setting it aside. Preheat the oven to 350˚F and sandwich the egg roll wrappers between two baking sheets. Place them in the oven and cook for 10-15 minutes or until the soft side begins to brown and crisp. Cool them slightly and then immediately cut them into strips to be used on top of the sandwiches.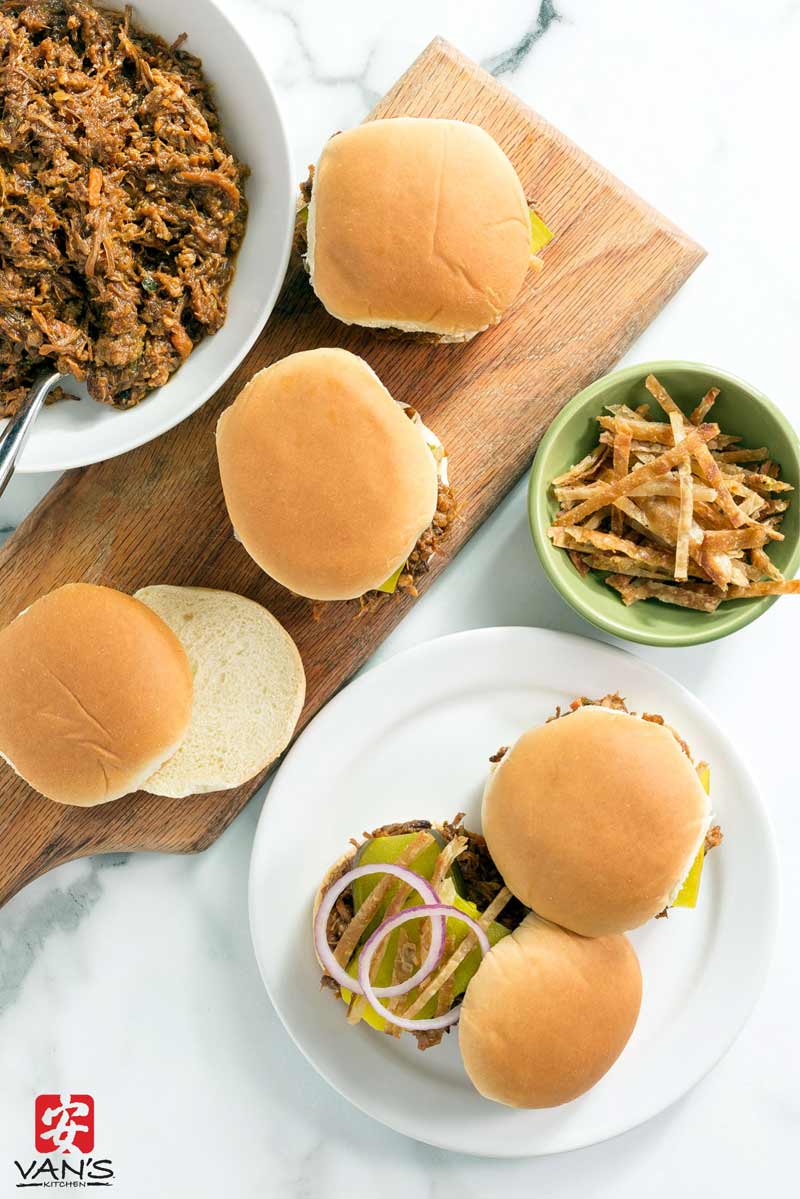 After the pork has cooked all that is left to do is to reduce the liquid with a few extra ingredients. Then stir it all together and make the sandwiches. The recipe is moderately spicy. If you like a little more heat, just add a bit more sriracha sauce.
This recipe is good for 12 sliders or about 8 regular-sized sandwiches. If that is more than you need, the remainder and be stored in the refrigerator for a couple of days or in the freezer for many weeks.
Pulled Pork BBQ Sliders
Cuisine:
Asian Vietnamese
Prep time:
Cook time:
Total time:
Serves:
12 sliders or about 8 regular-sized sandwiches
After a full day of work (or fun), you and your gang will be thrilled to sit down to this slow-cooked goodness. Add a fresh side of salad or veggies and you will have a complete meal that is sure to be requested again and again.
Ingredients
2 pounds pork shoulder
1 tablespoon paprika
1 teaspoon dried ginger
1 tablespoon brown sugar
1 teaspoon pepper
½ teaspoon cayenne pepper
½ teaspoon garlic powder
½ teaspoon onion powder
1 teaspoon kosher salt
1 tablespoon olive oil
¼ cup apple cider vinegar
¾ cup water
⅓ cup sweet and sour sauce
¼ cup BBQ sauce
1 tablespoon sriracha
12 slider rolls
4 pork egg rolls
1 red onion, thinly sliced
dill pickle slices
Instructions
Place paprika, ginger, sugar, pepper, cayenne pepper, garlic powder, onion powder and salt in a small bowl. Mix to combine. Cover the pork shoulder completely with the spice mixture. Heat olive oil in a large skillet over medium-high heat. Add pork shoulder and sear on all sides (about 4 minutes per side).
Place the pork and any remaining spices in a slow cooker. Add the vinegar and water. Cover the slow cooker and cook on high heat for 6-8 hours or until the meat is tender and falls apart easily.
Cut the ends from 4 pork egg rolls. Cut through the wrapper on one side of each, lengthwise. Carefully open the egg rolls and remove the filling. Set the filling aside. Preheat oven to 350˚F. Flatten the egg roll wrappers and place them on a parchment-lined baking sheet. Cover the egg roll wrappers with another baking sheet and bake for 10-15 minutes or until golden brown, dried, and crispy. Cool slightly, then cut the wrappers into strips. Set aside.
Remove the meat and pour the juices into a medium saucepan. Add the sweet and sour sauce, BBQ sauce, and sriracha to the saucepan. Whisk to combine and cook over medium heat for 12-15 minutes, stirring occasionally, to reduce the liquid by half to a thick sauce consistency.
Pull the pork apart with two forks, discarding any excess fat. Toss the meat with the egg roll filling. Add sauce and toss to coat completely.
Place a mound of pulled pork on a slider roll. Add pickle slices, egg roll wrapper strips, and sliced onion. Repeat for other sliders. Serve warm.