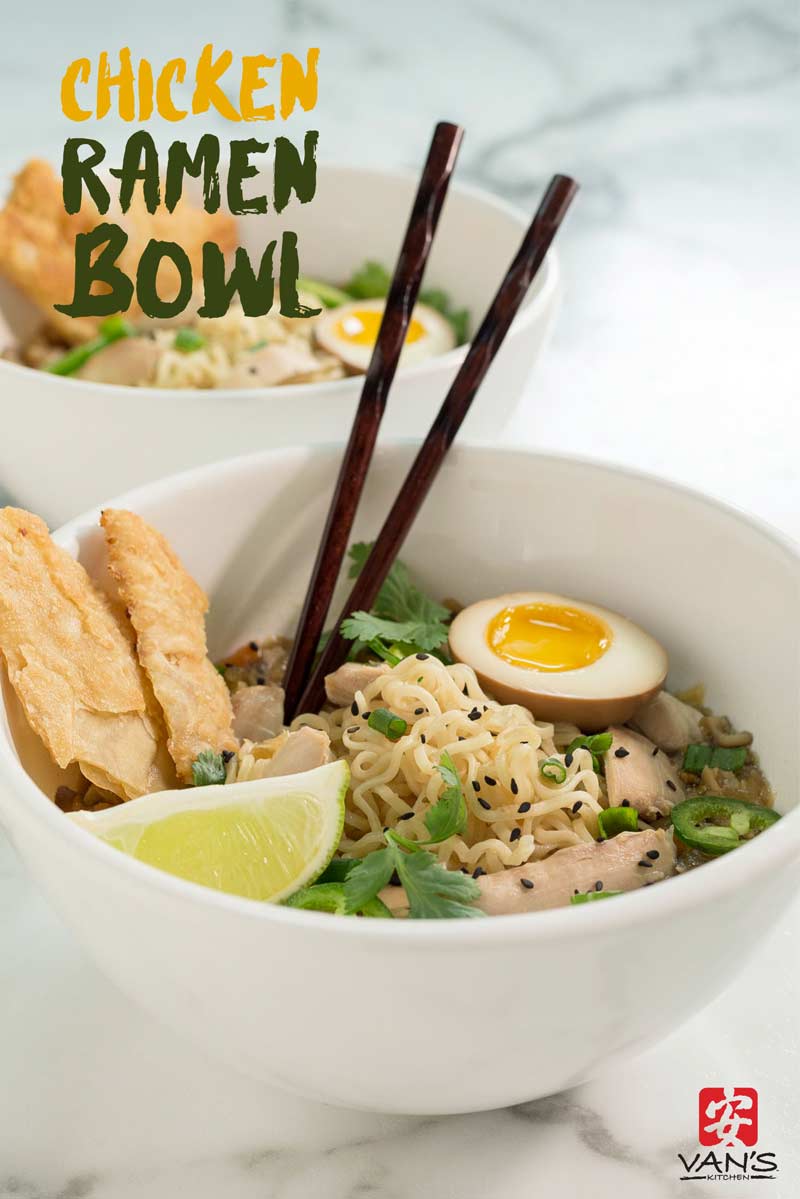 As the cooler temperatures roll in we all look for meal options to warm us. Soup is always a good choice and seems to welcome the autumn weather. Ramen turns ordinary soup into a meal with hearty chunks of chicken and lots of noodles to keep us satisfied. This ramen bowl is no exception.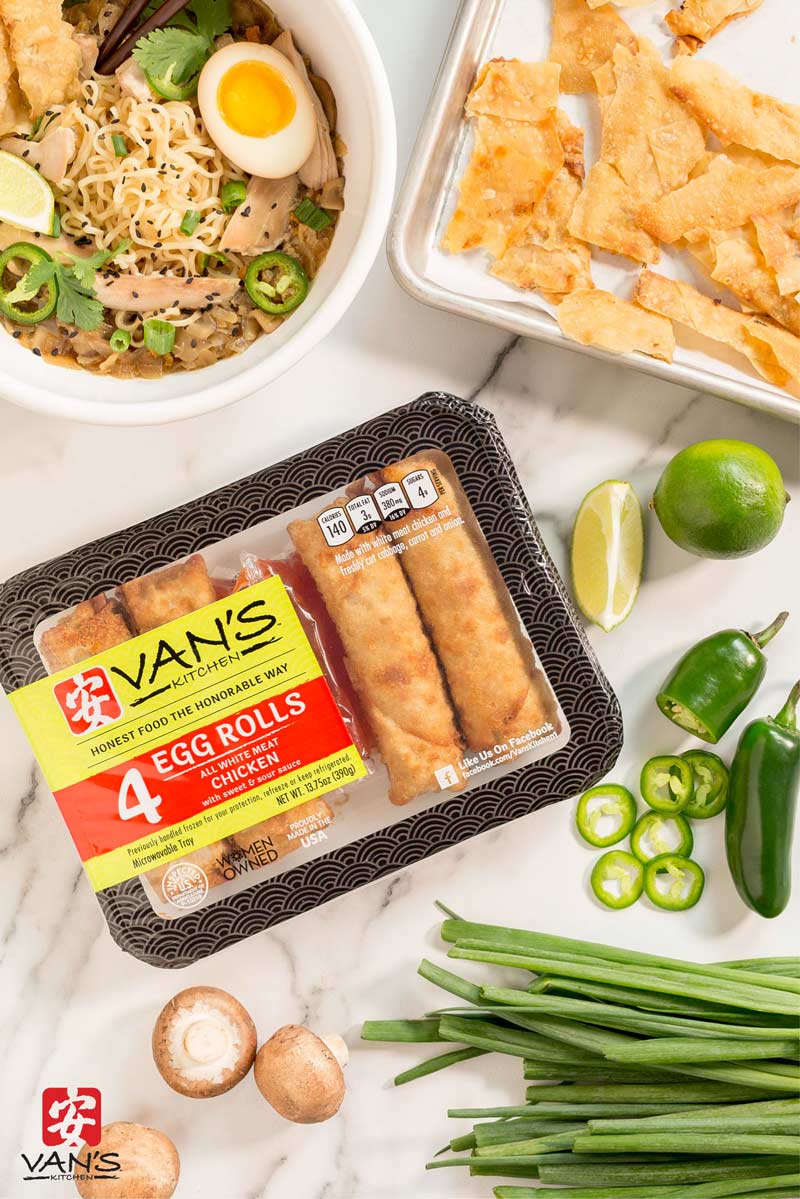 The broth is elevated with the addition of egg roll filling and the wrappers are crisped up and added as a garnish at the end for a little extra texture. This meal comes together very quickly except for the optional marinated egg, which can be made up to a day in advance.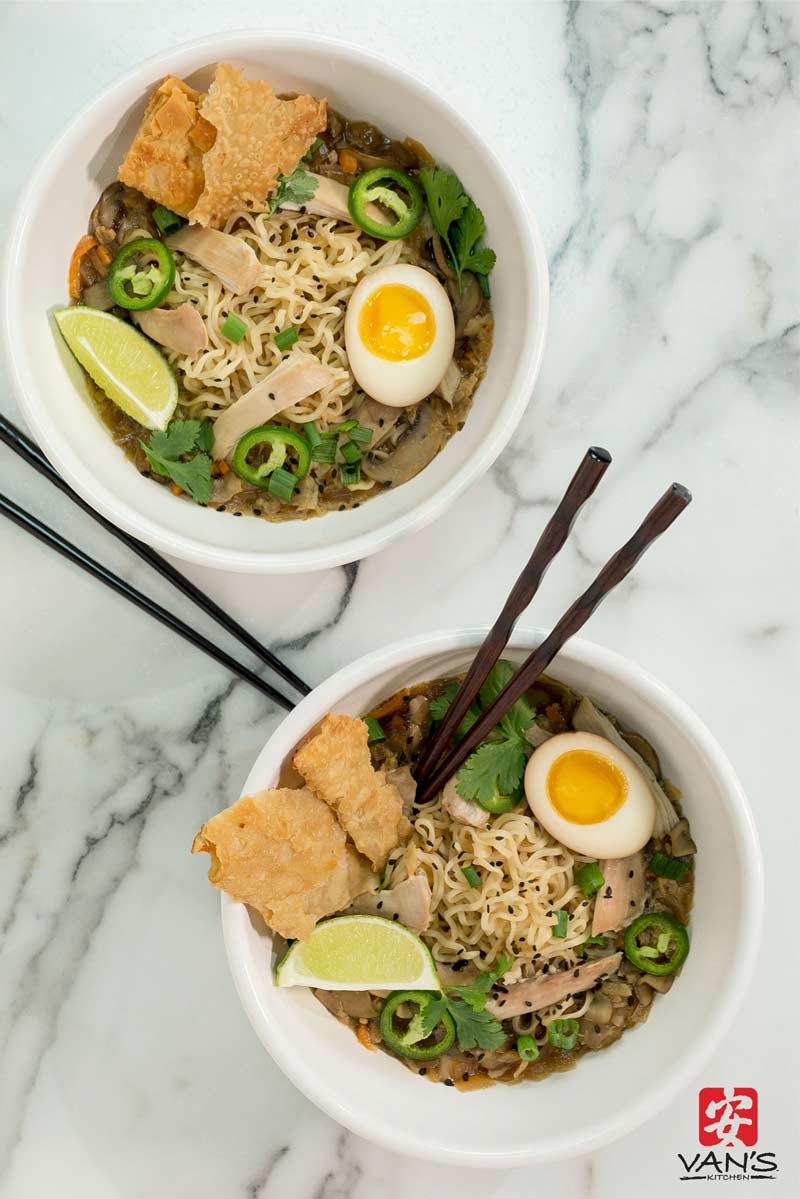 Use Van's Kitchen egg rolls that are thawed in the refrigerator or for a minute or two in the microwave. Cut the ends off of the egg rolls, slice them open on one side, and remove the filling, setting it aside. Preheat the oven to 350˚F and sandwich the egg roll wrappers between two baking sheets. Place them in the oven and cook for about 10 minutes or until the soft side begins to brown and crisp.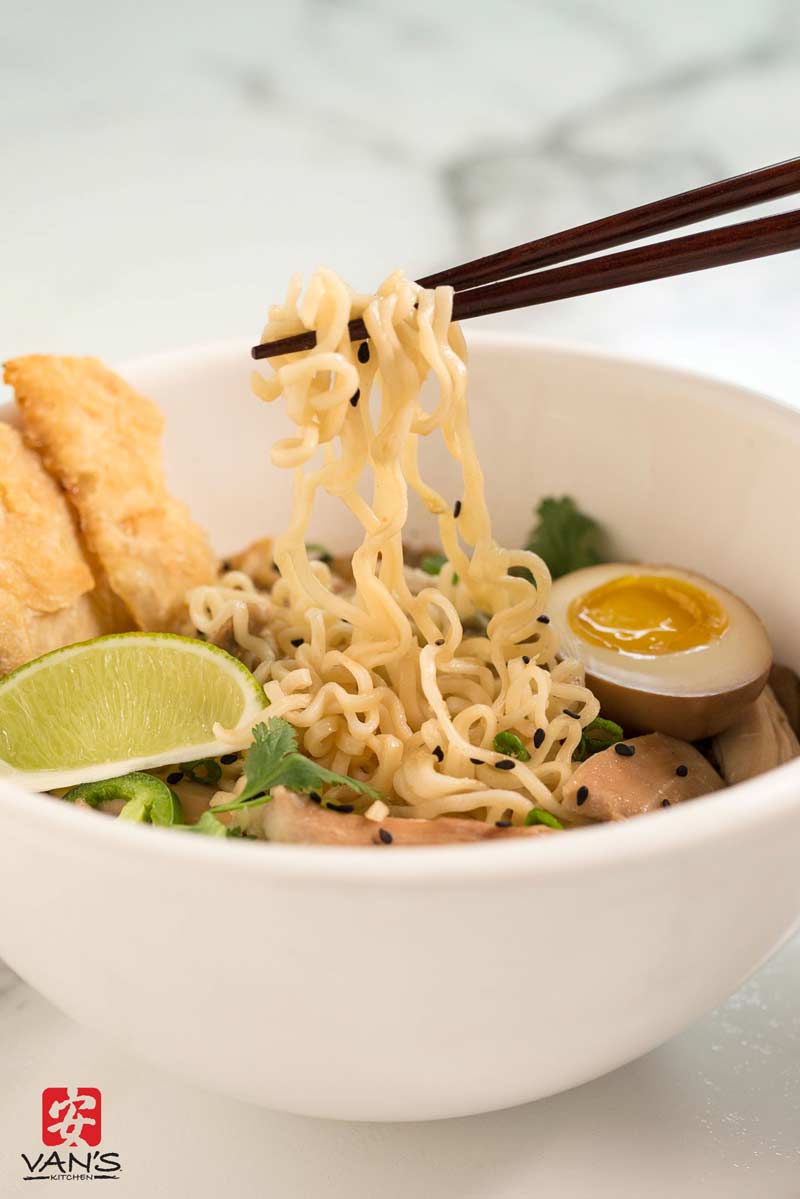 The remaining soup ingredients are all cooked in one pot, including the chicken. We've used chicken thighs here for their ability to stand up to cooking without losing their flavor or texture. The noodles are standard ramen noodles, but could be substituted for your noodle of choice. When the soup is finished, simply fill bowls with a serving of noodles and broth and add as much or little of the garnishes as desired.

Chicken Ramen Bowl
Cuisine:
Asian Vietnamese
Prep time:
Cook time:
Total time:
This ramen bowl is hearty, but not too heavy. It is packed with flavor and plenty of texture between the noodles, fresh toppings, and crispy egg roll wrapper. Make it and prepare to be cozy.
Ingredients
For the ramen egg:

4 eggs
¼ cup low sodium soy sauce
¼ cup rice vinegar
¾ cup water

For the soup:

4 Van's Kitchen chicken egg rolls, thawed
1 tablespoon olive oil
1 onion, sliced
4 ounces mushrooms, thinly sliced
1 tablespoon fresh ginger, grated
4 garlic cloves, grated
4 cups chicken stock
1 cup water
1 tablespoon sriracha
2 tablespoons oyster sauce
1 tablespoon fish sauce
½ cup low sodium soy sauce
¼ cup rice vinegar
1 pound boneless, skinless chicken thighs
4 packages ramen noodles

Garnish with:
jalapeño slices
green onion slices
cilantro
sesame seeds
lime wedges
ramen egg
egg roll wrapper chunks
Instructions
For the ramen egg:

Add water to a medium saucepan and bring to a boil. Carefully add eggs to the water and cook for 7 minutes. Remove eggs and immediately place them in an ice bath for 3 minutes. Peel the eggs and place them in a sealable container. Cover the eggs completely with the soy, rice vinegar, and water. Cover and turn gently to mix liquids. Place in the refrigerator to marinate for at least two hours before using.

For the soup:

Cut the ends from 4 chicken egg rolls. Cut through the wrapper on one side of each, lengthwise. Carefully open the egg rolls and remove the filling. Set the filling aside. Reserve the wrappers for later use.
Place a large pot over medium heat. Add olive oil to heat. Add onion and cook for 5-7 minutes until soft and translucent. Add mushroom and cook for 2-3 more minutes to soften. Add garlic and ginger and cook for 1 minute more.
Add chicken stock, water, sriracha, oyster sauce, fish sauce, soy sauce, and rice vinegar. Bring mixture back to a simmer. Add chicken thighs and cook for 15-20 minutes or until chicken is cooked through and reaches an internal temperature of 165˚F. Reduce heat to low to keep the liquid warm. Remove chicken thighs and break in to small pieces. Return the chicken to the pot along with the egg roll filling.
In a separate pot, prepare ramen noodles according to package directions. Drain noodles and divided over 4 bowls.
Preheat oven to 350˚F. Flatten the egg roll wrappers and place them on a parchment-lined baking sheet. Cover the wrappers with another baking sheet. Bake the wrappers for 7-10 minutes or until golden brown, dried, and crispy.
After cooling slightly, break the wrappers into large chunks.
Pour the soup over the noodles. Top each bowl with jalapeño slices, green onion, cilantro, sesame seeds, and a lime wedge. Finally, cut the eggs in half and add to the bowl along with a few chunks of egg roll wrapper.