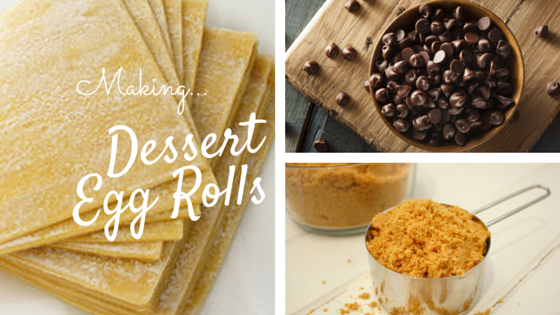 By Christine Coe | Writer, Mother & Dessert Lover
I don't know about you but I grew up in a dessert household – meaning my mom usually had something around for dessert after dinner. Sometimes it was just cookies she made that afternoon (which of course we already had sampled after school) and sometimes it was just ice cream in the freezer. But if we were really lucky, she baked up something special. Some of her favorites, that she was most known for, were pineapple upside cake, apple cobbler crisp and chocolate chip cookies.
At Van's Kitchen we're all about delicious savory egg rolls but that doesn't mean we don't have a sweet tooth. Trust me, we all do and so today we want to share with you our favorite sweet treat – dessert egg rolls! They're especially a great idea if you're having a theme night and cooking up all your favorite Asian dishes or want to surprise your family with something unique for dessert.
Believe it or not, dessert egg rolls come in all sorts of different flavors – everything from apple pie to banana cream to chocolate cake. In reality, you can probably play around and make any one of your favorite desserts into an egg roll. My favorite is Chocolate Chip Cookie Dough Egg Rolls. I found a great recipe online – there are lots of different available recipes, even a peanut butter chocolate chip cookie dough version if you're so inclined. The recipe I used came from Food.com and it's really quite easy.
INGREDIENTS:
1⁄2 cup butter, melted
1⁄2 cup brown sugar
1⁄4 cup sugar
1 cup flour
1⁄2 teaspoon salt
1 teaspoon vanilla extract
3⁄4 cup chocolate chips
6 egg roll wraps
Vegetable oil (for cooking)
DIRECTIONS:
In a large mixing bowl, cream together the butter and sugars.
Add the flour, salt and vanilla.
Mix until fully combined, then stir in the chocolate chips.
Position the eggroll wrappers on a flat, clean surface.
Place a handful of the cookie dough in the center of each wrapper.
Roll one corner up over the dough, then fold up the side corners before rolling the rest of the way.
Brush the last corner with water to seal it.
Heat about a 1/2-inch of vegetable oil in a large deep skillet.
When hot, flash fry each eggroll, one or two at a time.
Using tongs, turn the egg rolls so each side cooks for about 10 seconds. Drain on a paper towel.
Repeat with remaining rolls.
Serve immediately on individual plates with vanilla ice cream topped with caramel and hot fudge sauces.
I hope you get a chance to try out this delicious recipe. I know that you'll have a lot of fun making these Chocolate Chip Cookie Dough Egg Rolls and even more fun serving them to and eating them with your family. Please let us know your thoughts if you do, or if you have any of your own, share them on our Facebook page. We'd love to see pictures too. And of course if you're looking for savory egg rolls, Van's Kitchen has plenty to choose from. Happy dessert egg rolling!