By Christine Coe | Mother & Writer
It's that time of year again…summer is wrapping up and the dog days are coming to an end. No longer can your kids sleep in Monday, Tuesday, Wednesday, Thursday and Friday. It's time for your kids to get ready to go back to school. Or maybe some of you are saying goodbye because your child is heading off or back to college. Either way, we've got some ideas for both sets and we're going to do something fun with this blog by turning it into two parts. The first part will discuss lunch and snack ideas for those with kids still at home and the second part will focus on college kids, with a special emphasis on budget. We hope you enjoy the twist and look for our College Focused Blog article tomorrow!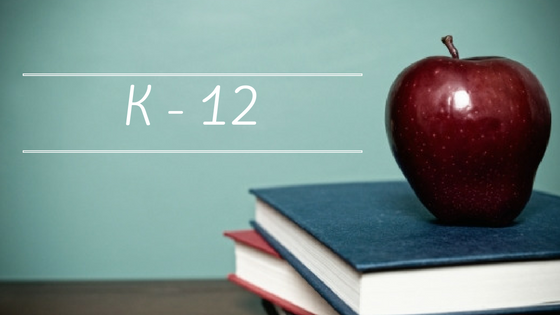 Part 1: Kids @ Home
So your kids are K-12 and you're still packing lunches or sending them off to school with money. The first is obviously going to be cheaper so I thought I'd share with you a popular trend that hasn't shown any signs of slowing down – the bento box. I'm sure most of you are probably at least somewhat familiar with a Bento Box from seeing it on the menu in Japanese restaurants or maybe you're a big fan of ordering them yourself. Wikipedia defines bento as "a single portion takeout or homemade meal common in Japanese cuisine. A traditional bento holds rice, fish or meat, with pickled or cooked vegetables, usually in a box-shaped container." Bento box lunches have blown up big time outside of restaurants in the last five or so years. They are everywhere. In large part due to the creativity they afford and the nice pre-portions already built in. For fun ideas on what to put in your bento boxes, there are tons of online resources. In fact, Parents.com has 50 of them! You can check them out here. (Or if you fancy this idea for your work lunches, here are 25 ideas.)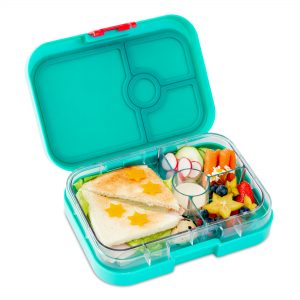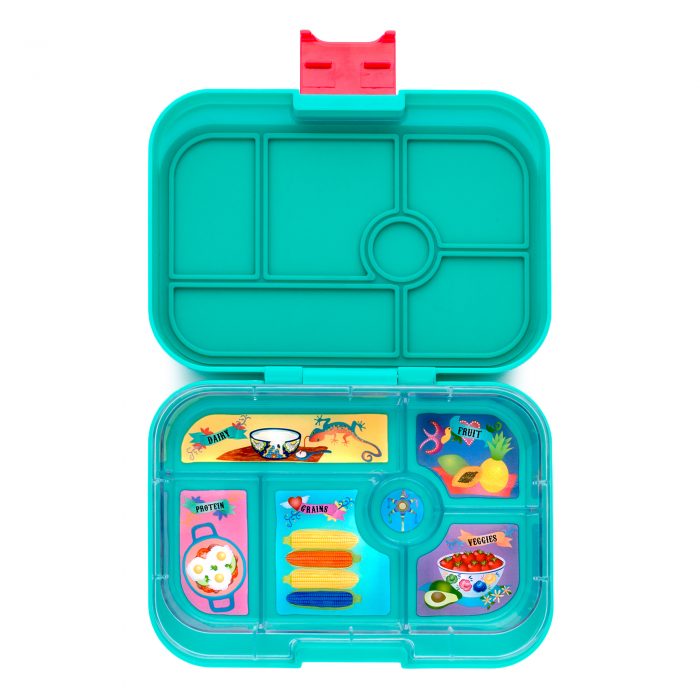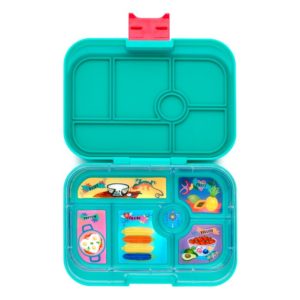 (Photos from Yumboxlunch.com)
One such company that has jumped on the bento box bandwagon is Yumbox, who's inspiration actually comes from French school lunches, not Japanese. As their website touts, "The emphasis in France is on balance, variety, taste and nutrition. Yumbox was dreamed up to allow us all to replicate that same balance and nutrition for our kids, regardless of where we live." They use a bento-like tray inside their box to designate food groups and help parents (and kids) pack a balanced meal. The 6-compartment trays illustrate the food group: dairy, fruit, protein, grains, veggies and dip/treat well. The 4-compartment trays accommodate bigger foods like sandwiches and salads. Both the inserts and the boxes come in lots of variations and colors, making it fun for kids of all ages. And their especially great if your kids don't like their food to touch! The YumBoxes will set you back $28 but you can find others online for cheaper – Pottery Barn Kids sells one for $16.50. But I do like how YumBoxes are educational as well, helping your child learn about portion control and eating a balanced meal.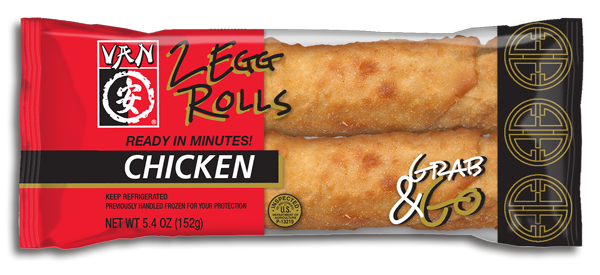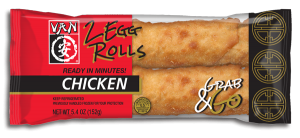 But if your child is a little older and thinks he/she is too cool for a bento box, maybe it's easier to throw one of Van's Kitchen Grab & Go Two-Pack Pack egg rolls in their insulated lunch bag with some dipping sauce of their choice and a piece of fruit. They come with a crisping sleeve to heat up in the microwave (since most high school cafeterias have their own) and come in three flavors: chicken, pork and vegetable. The first two already include a protein and all three have vegetables. If they opt for the vegetable egg rolls, you can also add yogurt or cubed cheese to their lunch for some added protein. These also make for a quick and easy snack for after school – the kids can do it themselves. Or if they plan on having all their buddies over, Confucius by Van's Kitchen is our frozen brand and come 12 to a box.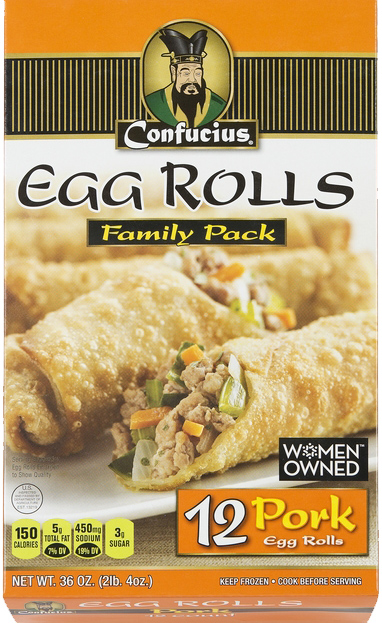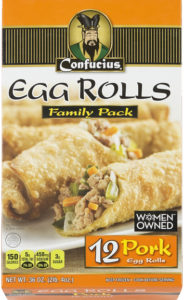 If you have any great ideas to share for back to school lunches, lunches on a budget or after school snacks, we'd love to hear them! Please post any ideas and photos on our Facebook page. In the meantime, our college edition of Tasty Back to School ideas will post in the next couple days.