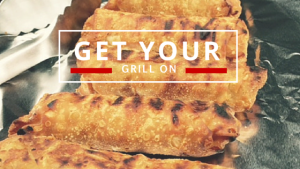 By Christine Coe | Writer, Mother & BBQ Enthusiast
Did you know that May is National Barbecue Month? I mean it makes sense with the weather heating up and Memorial Day around the corner – which always marks the official kick-off to grilling season in my opinion. And it just so happens that Memorial Day is the second most popular holiday for barbecuing according to the Hearth, Patio & Barbecue Association (HPBA) – July 4th comes in first and Labor Day third. It also happens to be a great time to start cooking outdoors in general, getting together with friends and family, and eating healthier. In fact, the HPBA also reports 70% of Americans say it gets them into a healthier routine. A whooping 81% even claim it's easier than cooking indoors.  Well, I guess that depends on how great a grill master you are! But I definitely agree it helps me eat fresh vegetables more often because they taste so good on the grill – just a little olive oil, salt and pepper and you're good to go. Plus, you don't need to get super fancy with your gadgets – just some tongs, skewers, tinfoil, a meat thermometer (totally optional if you're the eyeball it sort of person) and maybe a brush to add some sauce directly onto your meats.
Speaking of meats, have you ever thought about what else you could barbecue besides the same old burgers and hot dogs? Why not try something different? Something you've probably never thought of before…you know where I'm heading with this don't you? Yep, our culinary geniuses at Van's Kitchen came up with a crazy twist on the classic barbecue staple – grilled egg rolls! It's a fun way to mix it up and try something that's sure to surprise your friends and family when they first see you put them on the grill. Plus Van's Kitchen egg rolls are low fat and healthy. You can pair them with your favorite Asian slaw recipe or Van's Kitchen's Crunchy Asian Egg Roll Salad. If you want to keep it simple, just chop up a bunch of mixed veggies, put them in some tinfoil, pour a little soy sauce on them and throw them on the grill. Finally, if you want to include as much summer barbecue spirit as possible, try one of our egg rolls with actual barbecue sauce. Grill some corn on the cob and skewer some vegetables with mini potatoes and presto, you have an exciting new option for barbecuing.
Okay, maybe you're thinking to yourself this idea is just too out there, but I wouldn't offer up this suggestion without trying it myself. This past weekend was the perfect weather for my experiment (plus it was a friend's birthday and I thought she'd enjoy the surprise). I grilled the pork egg rolls with some barbecue sauce. I got to say, they really were the ultimate hit of the party because it was such a unique twist. And for the best results, make sure your egg rolls are thawed out if you have our frozen brand Confucius or use Van's Kitchen four and five count trays found in the refrigerated or deli section. This allows for maximum crispiness without over doing it so the inside is hot. I put them on tinfoil and turned half way. Okay, little advice here – make sure your burner isn't too high where you place your egg rolls. I recommend a medium-to-medium low setting. A few of mine got a little too toasty on one side but were still delicious. In other words, no egg roll was left uneaten!
So we'd love to hear what you think about this idea or better yet, try it out yourself and post your photos on our Facebook page. After all, barbecuing is all about having fun with cooking. And for those of you from the South (I am from the West Coast), yes I have learned during my research that barbecuing and grilling is not the same thing – even if most laymen use them interchangeably. According to a cnn.com article, "Barbecue involves slabs of meat cooking for hours — in a grill, in a smoker or maybe in the ground… Grilling meat or vegetables for minutes at a time, …does not a barbecue make." Good to know. Call me better informed. Hope you all enjoy National Barbecue Month…or maybe it should be called National Grill Month? Either way, I'm eating it.