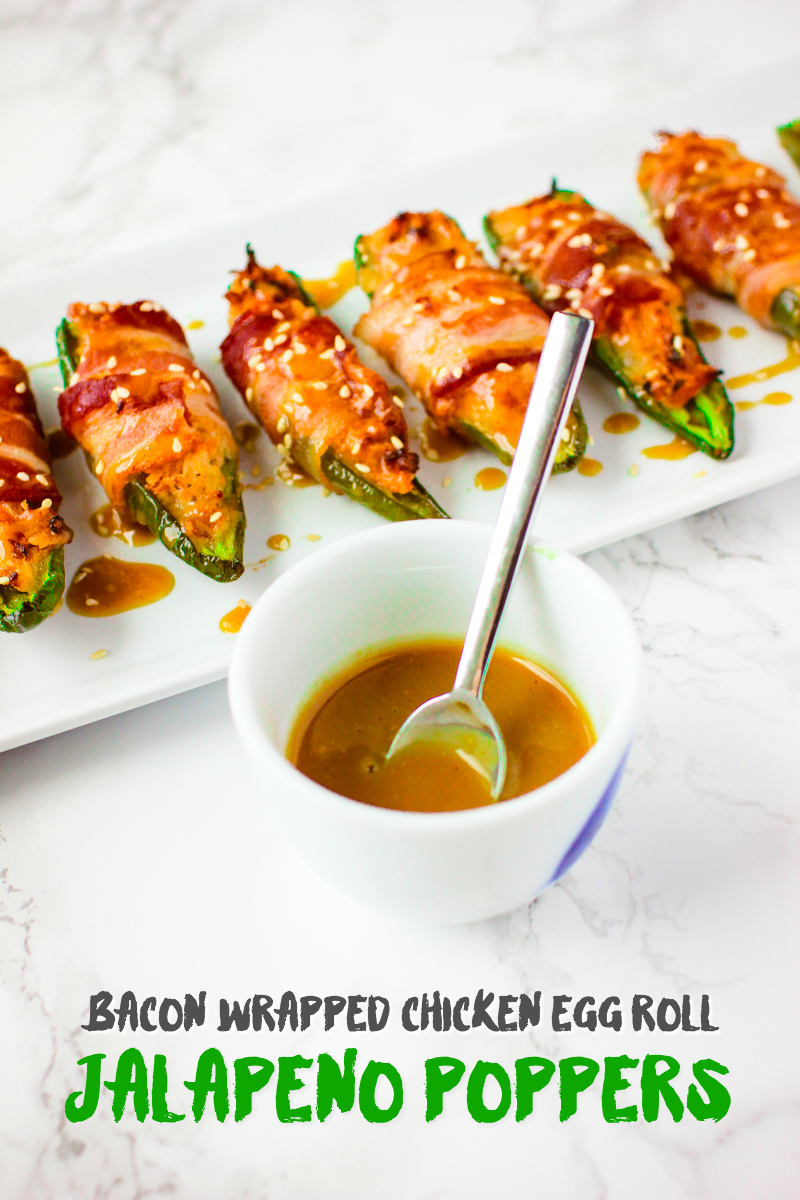 Well…football season is here!  And these Bacon Wrapped Chicken Egg Roll Jalapeno Poppers are the perfect snack for football watching parties with family and friends.  We stuffed spicy jalapeno peppers with our flavorful chicken egg rolls and Monterey Jack cheese and then wrapped them in delicious crispy bacon.  To layer on even more flavor we pair them with our Asian Honey Mustard dipping sauce.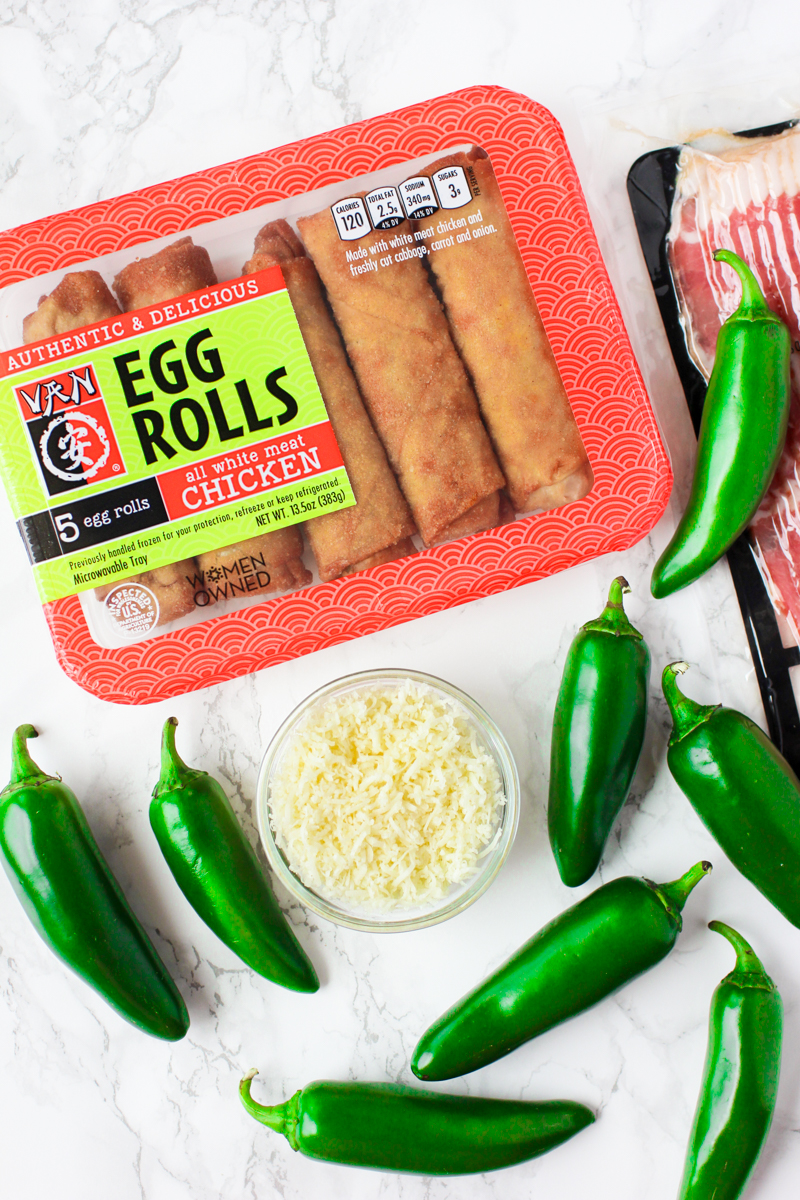 You can find Van's Kitchen Chicken Egg Rolls at your local Walmart or other grocery stores.  Check out our store locater here to find a grocery store near you.  Our Chicken Egg Rolls are full of freshly chopped carrots, onions, celery and cabbage.  We also only use 100% white meat chicken in our egg rolls.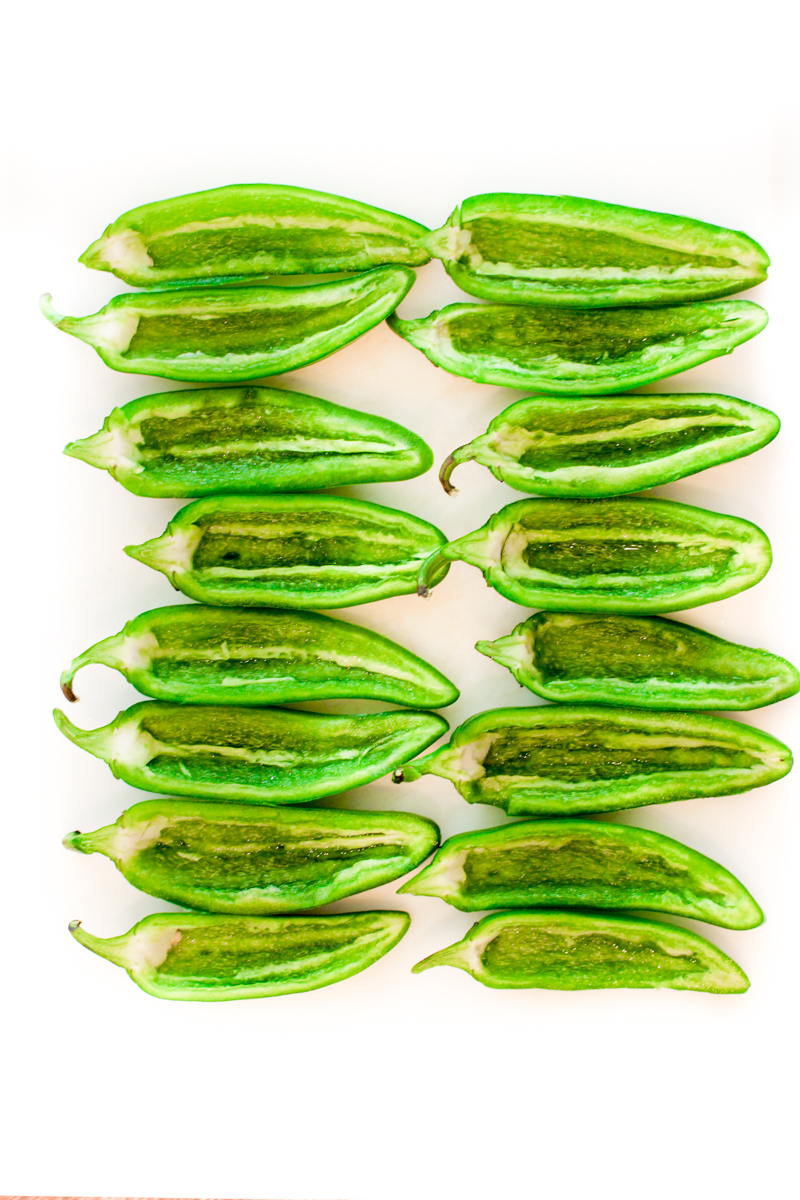 This is a super simple recipe that's perfect not only for football season but it's also great for Girls Night In or anytime you need a quick, easy appetizer or snack.  You'll be surprised by how Mexican and Asian flavors blend so well together – it's a fun mashup that will surprise and delight your guests.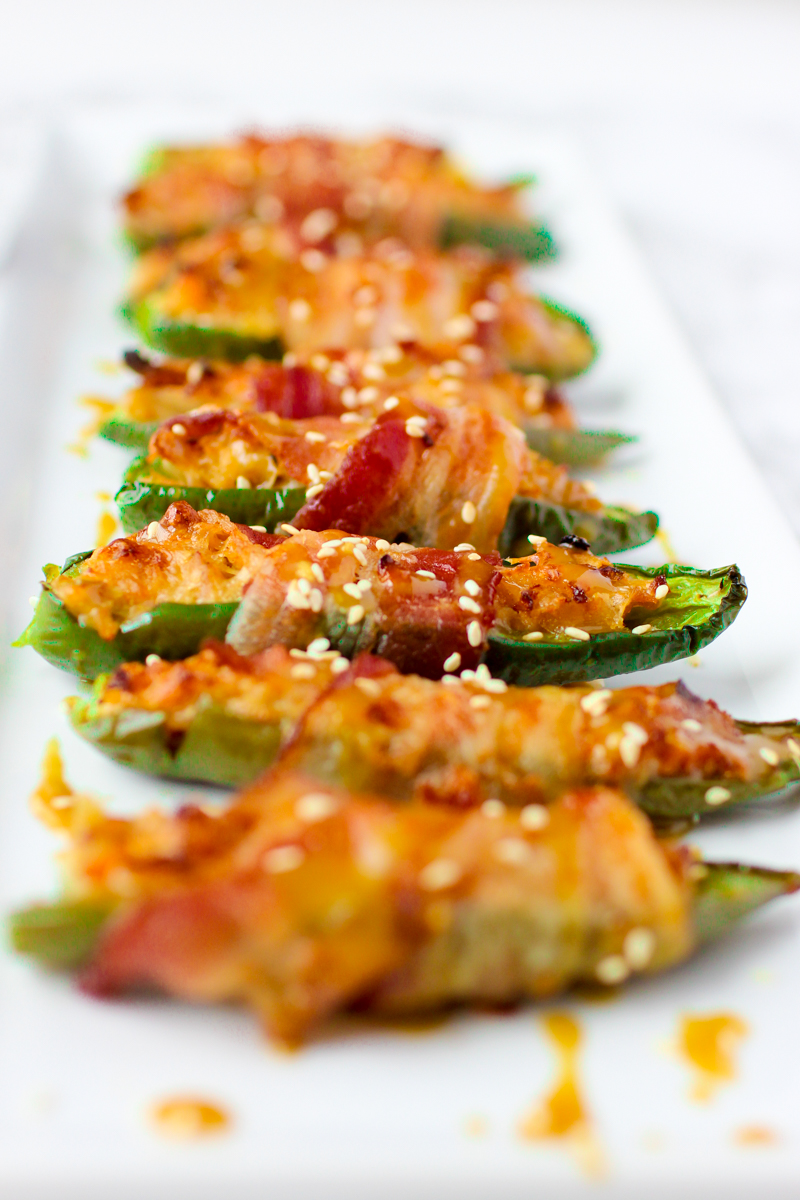 RECIPE TIPS
Peppers can be stuffed and wrapped one day in advance
Keep the peppers refrigerated until you're ready to bake them
Use a thin cut bacon – it's crisps up better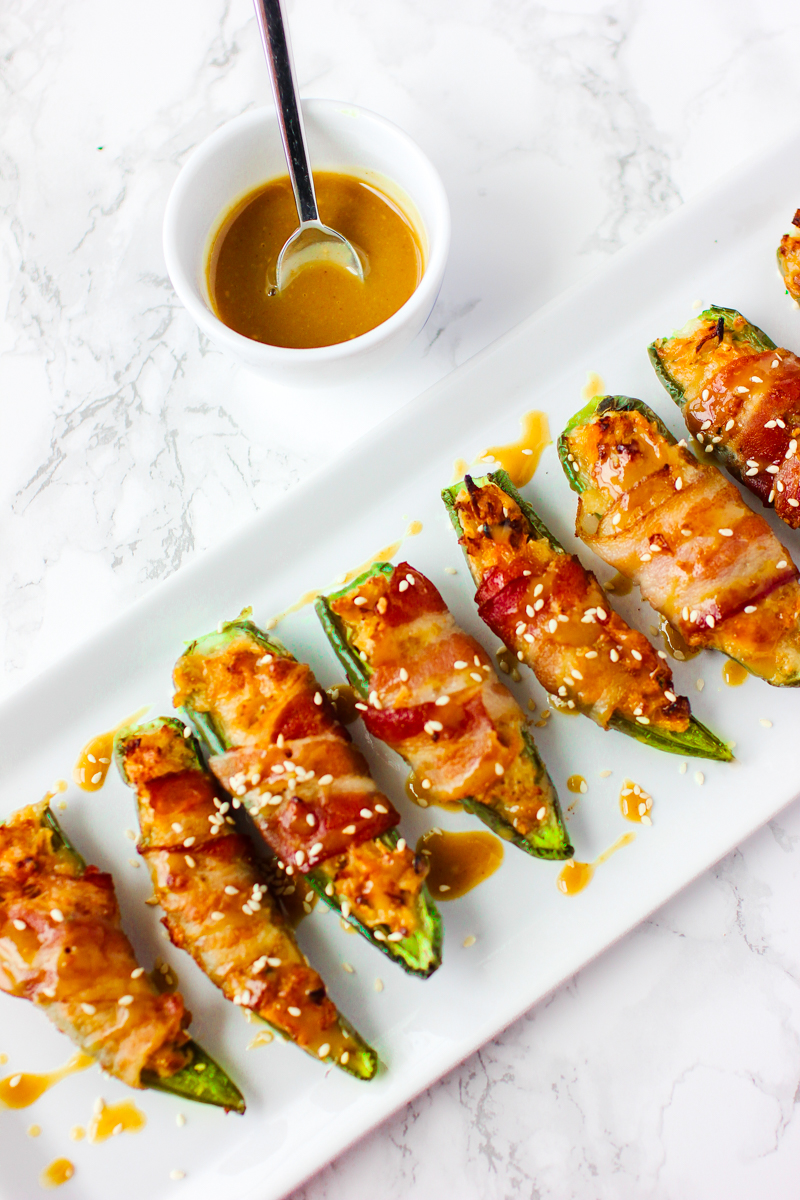 To make this recipe your own experiment with Mexican style or pepper jack cheese.  Or try the poppers with a Sriracha and mayo dipping sauce to bring out all of those delicious flavors.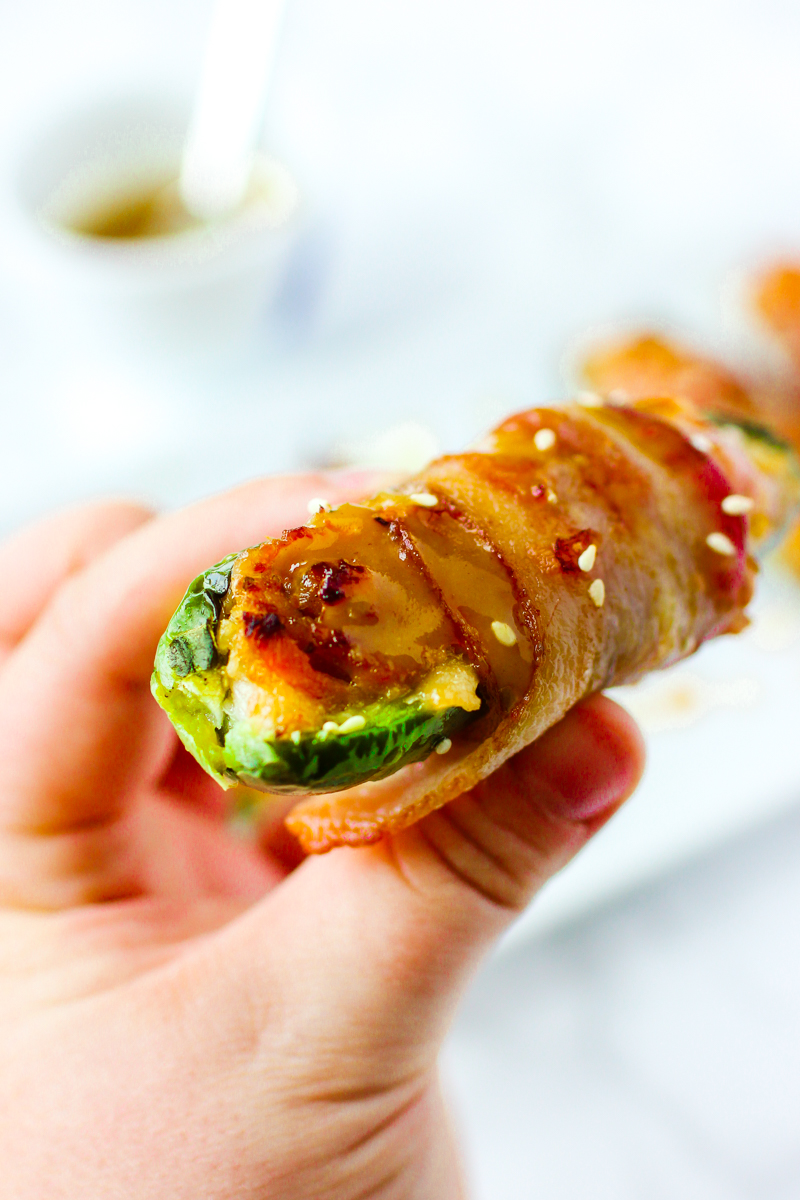 Bacon Wrapped Chicken Egg Roll Jalapeno Poppers
Prep time:
Cook time:
Total time:
This is the perfect appetizer for football watching parties, Girls Night In or gatherings with family and friends. Jalapeno peppers are stuffed with Van's Kitchen Chicken Egg Rolls and Monterey Jack cheese and then wrapped in delicious, crispy bacon. Yum!
Ingredients
● 6-8 fresh jalapeño peppers
● 2 Van's Kitchen Chicken Egg Rolls
● ½ cup grated Monterey Jack cheese
● 1 pound thinly sliced bacon (10-12 pieces)
● 2 tablespoons honey
● 2 tablespoons soy sauce
● 1 teaspoon Dijon mustard
Instructions
Preheat oven to 400F degrees. Line a large baking sheet with parchment paper and place a baking rack on top.
Cut peppers lengthwise from tip to stem, carefully remove ribs and seeds. Set aside.
Prepare egg rolls according to package directions. Dice egg rolls and place in a medium sized bowl.
Add cheese to bowl, toss to combine.
Evenly fill peppers with egg roll mixture.
Wrap each stuffed pepper half with a piece of bacon. Trim bacon as needed.
Stick a toothpick through the center of each popper to assure the bacon stays in place.
Place poppers on the baking rack and bake for 25-28 minutes or until the bacon is crisp to your liking.
For the Asian Honey Mustard Dipping Sauce mix honey, soy sauce and mustard together in a small bowl and serve with poppers.