By Christine Coe | Writer, Mother & Time Cruncher
Yep, it's that time of year that as soon as we get done with one holiday, the next one is right around the corner. I know, if you're anything like me you're still cleaning up from Thanksgiving! And the last thing you want to do for the next 24 days is cook anymore complicated meals. I hear you! You need that time to rest and recuperate so you can prepare for your next big holiday. So, take a night (or two, or three) off and start enjoying some of the other holiday traditions like tree trimming and sending out holiday cards. I'll even share with you some fun things to do with your kids. Oh, and I think you deserve an uncomplicated dinner that your whole family will enjoy, so I'll share one of those too – a tasty Asian Peanut Noodle dish that I promise is super easy and you can use the spaghetti noodles you already have in the cupboard. Sound good? All right – let's get to it then shall we!
Okay. First up is tree trimming. There does seem to be an art to this, well, according to Martha Stewart anyway…you know she always has an opinion. In fact, she has a whole article dedicated to the topic and you can read it here.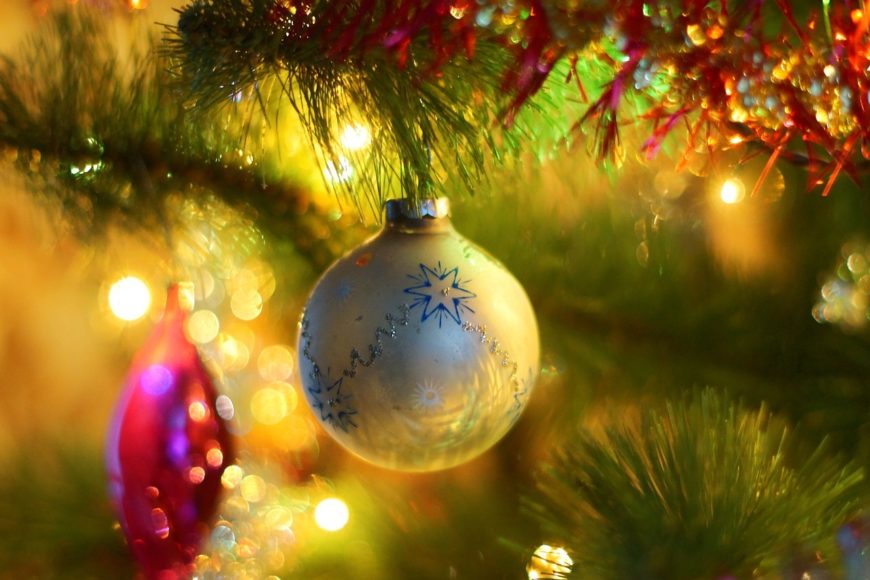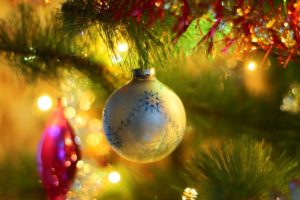 But to summarize, the goal is to get your tree to look symmetrical, cutting off any awkward growths sprouting out from branches. Martha also recommends placing your tree in a planter to give it a more tailored look and allow for more room for presents. Makes sense to me. I think that would especially help with making sure water doesn't get spilled on the floor as well. Her art of decorating, however, may be lost on some of us with young children – since our trees usually tend to take a more creative rather than "themed" look. Well, unless of course that theme is chaos! I think the overall trick is to go with the flow and don't take it too seriously. Have fun, turn on some holiday music and make it a family night.
Speaking of having fun, if writing holiday cards is anything but fun for you and sends you into a cold sweat, it's time to give yourself a break. If you love doing them, then by all means, keep doing them. If however it is causing you some anxiety, I have an idea.
Have you ever heard of Smilebox?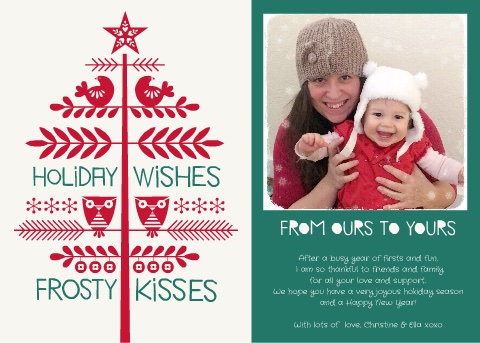 (My 2014 Holiday card from Smilebox)
It's a great photo application that let's you make cards, invitations, slide shows, little videos and more. And you can use it all year for birthdays, announcements, invites and other holidays. I've been using it for the last couple years and I make a holiday video with pictures of my daughter and me and then email them to all my friends and family. But if you want you can print or post your greetings too. Instead of being stressful, it makes the process fun and easy.
Now onto that that tasty Peanut Noodle dish I was talking about! This delicious –and easy –recipe comes from the blog – The Girl Who Ate Everything. But don't worry, we made it ourselves to make sure it tasted as good as it looked! Trust us, it does. And it will definitely fill up your kitchen with some nice aromas.
Asian Peanut Noodles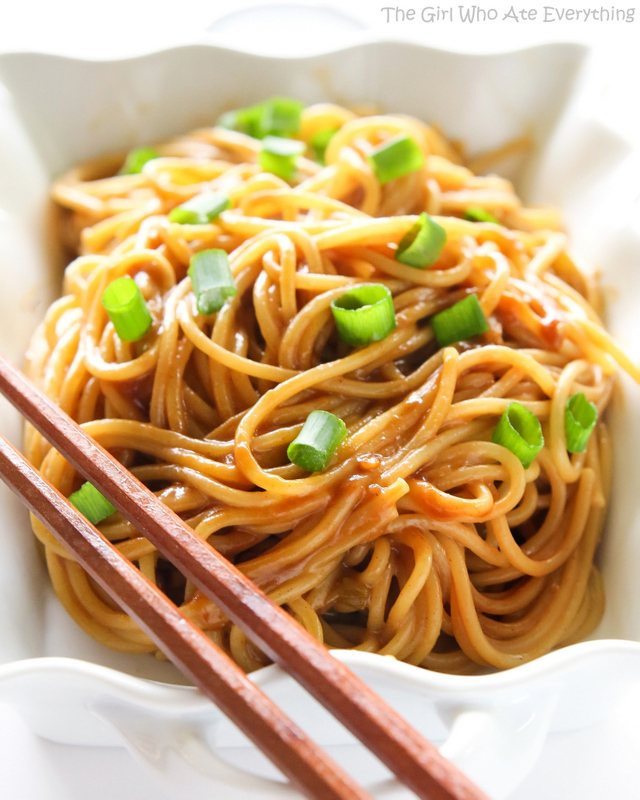 Ingredients:
8 oz. Spaghetti
2 tbsp. Toasted Sesame Oil
1 bunch Green Onions, sliced (white parts for garnish)
1 tsp. Minced Fresh Ginger
1/3 c. Creamy or Chunky Peanut Butter
1/4 c. Low-Sodium Soy Sauce
1/4 c. Hot Water
1 tbs. Cider Vinegar
1 tsp. Sugar
1/4 tsp. Crushed Red Pepper Flakes
Directions:
Cook spaghetti in a large pot of salted boiling water until al dente. Drain.
While noodles are cooking, prepare the sauce: In a small skillet, heat sesame oil over low heat. Add the onions (white parts only) and cook until tender. Add the ginger and cook for about one minute.
Increase the heat to medium and stir in the peanut butter, soy sauce, water, vinegar, sugar and pepper. Stir until combined then remove from heat.
Toss spaghetti with sauce and garnish with sliced green onions and peanuts if desired.
How easy was that? And if you want some added protein, feel free to add in chicken or shrimp. Oh, and don't forget – on those nights you really don't feel like cooking, reach for some Van's Kitchen egg rolls – they bake up nicely and can be served with the above recipe, rice, a salad or even soup to make a complete meal. And our Confucius brand, which are our frozen egg rolls, come in packs of 12…just in case you have a lot of hungry mouths to feed.
And that's a wrap folks! Do you have any fun holiday traditions your family partakes in? We'd love to hear about them on our Facebook page. Otherwise, we will see you in December.