By Christine Coe | Writer,  Mother and Boredom Zapper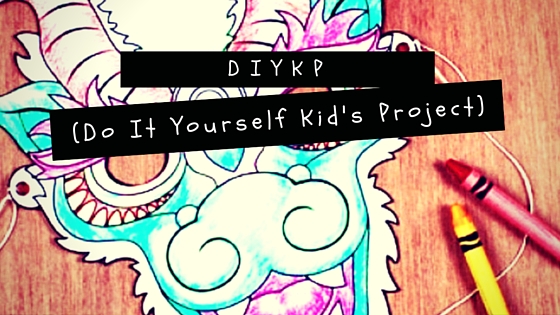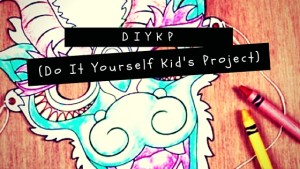 Sometimes April showers just leave your kids inside running around like banshees in an Animal Planet kind of way. It's the nature of this time of year – one minute it's beautiful outside and the next minute it's raining and freezing. Don't fret, I have just the DIYKP to keep them entertained. Or at least break them away from whatever electronic device they're glued to at the moment! Now, I have to admit, I'm not the most crafty mom in the world. Maybe that's why I went into writing instead of designing! So, you'll find that this craft can be done with the most minimal effort and still be quite fun.
Chinese Dragon Mask
The Chinese New Year has come and gone but that doesn't mean you can't still have a little fun with some of the traditions taken from this festive holiday…minus the fireworks of course. And this one couldn't be easier to do because one, you most likely already have all the materials; two, there are a ton of templates online (but I've provided two for you here to make it even simpler); and three, your kids will have fun making them and then running around chasing each other. Oh wait a minute, then they're back to behaving like animals. Okay, scratch that. For a slightly tamer idea, have them use their imaginations to come up with a story and then act it out for you. Or they can even create their own dragon dance and perform it. Either way, it's bound to keep them entertained for an hour or two – hey, a mom can dream can't she!
Materials:
Template of a mask – here's one option & here's a second
Letter size card stock paper
Crayons, markers and any other decorations
Scissors
Hole punch
Elastic string
Scotch tape or stapler
Directions:
So like I said, this is super easy. Just print out the dragon mask template on your letter size card stock paper – white works best since they will be coloring it. Then let them go to town decorating it any way they'd like. They can use crepe paper to create strips, sparkles, beads, whatever! If your kids will be bedazzling, you will probably need some glue as well. After they've finished, cut the mask out (don't forget the eye holes), then punch small holes on both sides of the mask and secure the elastic string with either tape or by stapling it. If you don't have any elastic string, you have a couple options…you can find a large rubber band and cut it, use some ribbon or string, or attach a Popsicle stick to the middle of the mask for your child to hold it up to their face. Tada – that's it. I told you it was easy!
Now make your self a cup of coffee or pour yourself a glass of wine – it's five o'clock somewhere, and savor a little you time. Even if it's short-lived, something is better then nothing. Oh, and we'd love to see your kid's creation, so please share them with us on Facebook if you get the chance between wrangling, making meals, getting gum out of hair and all that other fun stuff that always winds up happening throughout the day.
P.S. If you're looking for something a bit more challenging (because you're the Martha Stewart type), try these paper Chinese lanterns from the lady herself.