The Right Products For Your Convenience Store!
It's Time to Roll in More Business
Did you know prepared food makes up 73% of foodservice sales in convenience stores? Keep your customers interested in your roller grill items with some Asian flair!
Van's Kitchen New & Improved Roller Grill Egg Rolls are made in artisan batches using only fresh, whole ingredients and premium proteins.
Thanks to our new proprietary process, Van's Kitchen egg rolls will now continuously move on a roller grill so they cook more evenly and maintain their crisp texture.
With this innovation and our three savory flavors, Chicken, Pork, and Southwest Chicken, our egg rolls are sure to fly off the grill and roll in more sales for our convenience store clients.
Grab & Go Cold Case Solutions
For customers looking to purchase a snack or meal for later, you can offer our 2-Pack Grab & Go Egg Rolls!
With a crisping sleeve that ensures a crunchy texture straight from the microwave, our Grab & Go products provide a solution to your customers who purchase their lunch at breakfast time.
These products are an eye-catcher, especially when merchandised alongside salads, wraps and sandwiches.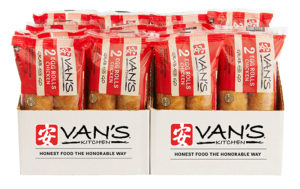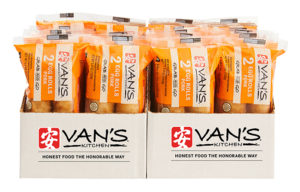 Let Us Know How We Can Help You: